Nigerian lady causes buzz as she shows off N3.2 m food order she received on her birthday; Netizens react (Video)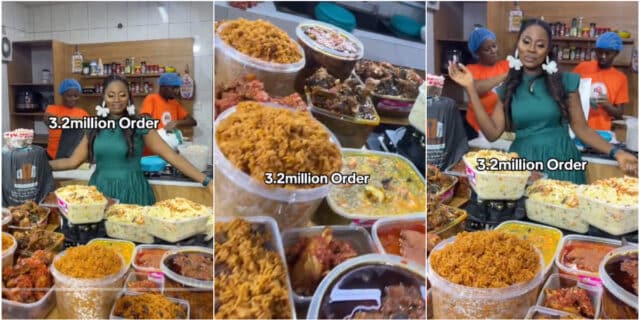 A Nigerian lady known as @hotmbycheft took internet by storm as she celebrated her birthday in style, showing off a food order valued at N3.2 million that she received on her birthday.
The chef, whose real name remains undisclosed, celebrated her special day by preparing a variety of dishes featuring a diverse selection of traditional Nigerian dishes.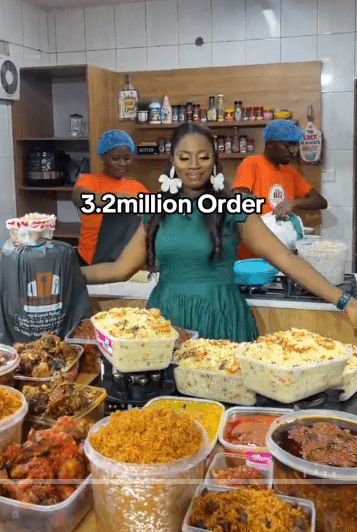 With the help of her kitchen team, @hotmbycheft skillfully prepared a visual and culinary spectacle that had her followers buzzing with excitement.
The spread included bowls filled with fried rice, jollof rice, chicken stew, and a steaming pot of egusi soup.
Adding to the impressive spread was Edikaikong soup.
What caught the attention of many was the staggering estimated cost of the entire meal, which was reported to be in excess of N3 million.
Netizense were left astounded at the apparent extravagance, prompting a flurry of reactions on social media platforms.
Netizens Reactions…
@Olatunsam said; "At least, this is better than buying 1 fish for 6.8million naira. Ola of Lagos should see this."
@iyiolakolawolebob asked; "When you turn ola of Lagos?" Chiamaka said: "I know food is expensive but this price just seems outrageous."
@sandy_XOXO said; "You all should understand that for some people that 3.2m isn't much…I pray to get to that level someday."
@Gentuuu said; "This thing all together 500k."
@ExpensiveBody… joked; "You don't have the one of 8.9. Billion?"
@Kim namjoon said: "My wedding of more than 700 guests, na 2 million plus cover am sha. Omo ur clients must be rich rich!"
@Emmanuel asked: "3.2 million naira how?"
@Classic_____ rossy asked: "You go dash me Lexus car join am?"
@Jane windy said; "3.2m how much to rent my entire village Aje."
@TeejayCSO said: "Give me N50k, I go cook all dis + fresh juice added."
See below;