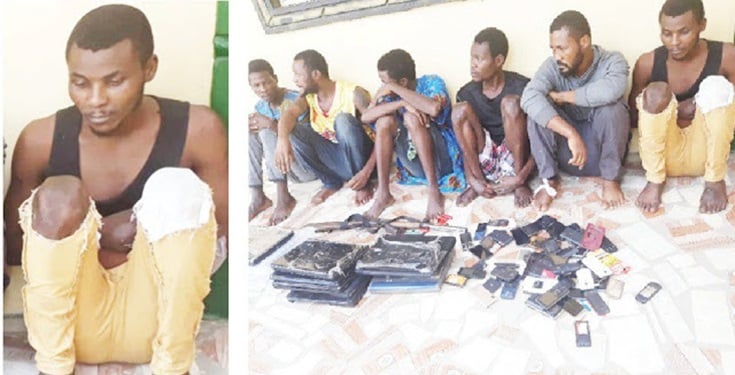 When Nurudeen Akorede, 24, showed up in an Indian hemp smoking joint in Alakuko area of Lagos State for the first time, he never knew that visit would plunge him deep into crime and criminality. He had gone in search of his girl friend, Toyin.
Akorede, a member of a six-man armed robbery gang, whom the police say had adopted a new method of cutting off victims' fingers and wrist to make them part with huge sums and valuables, alleged that his step mother used her witchcraft powers to force him into crime.
The man, according to the police, is not only vicious but also impatient with any victim who is without good phone or cash at home when the gang visits.
Akorede and his gang members were arrested following outcry by residents of Aboru. In his statement to the police, Akorede said that his father had good plans for himself and his siblings but everything crashed when his father remarried after he divorced his mother.
He said: "My step mother used her witchcraft power to stall my future and made me a criminal. My dad had good plans for us but everything changed after my mother left him. She is also remarried."
"My problems started after my parents separated. My mother and father both remarried, I was still in secondary school then, and my mother took me along while my younger brothers stayed with my father. After secondary school, I learnt how to fix aluminum doors and windows. My father's new wife started tormenting me. She made my younger brother go insane and she also poisoned my father's mind against us. Not satisfied, she turned me into an armed robber.
"I started smoking in 2017. Before then, I used to attend church services with my mother and I was warned in my church not to smoke cigarette or Indian helm by a prophet, because enemies were planning to ruin my life through smoking. The prophet told me that anything I wanted in life God would give me, so I adhered to the instructions.
"Two years ago, my story changed when I went to look for a girl at Egbatedo area of Alakuko. I met some people smoking Indian hemp and other hard drugs. It was there I met Kunle Poly, who thought me how to smoke. He also introduced me to his robbery gang.
"I stopped going to church and my shop because I was always spending time at the joint with Kunle Poly and his gang. Kunle introduced me to two other guys – Rafiu and Olamide, one is dead now. I joined their gang and we went to four operations together."
On how they started cutting off victims' fingers and wrists, Akorede alleged that his colleagues brought the idea. "They said how we can go out to rob without coming back with something reasonable. They were the ones who chopped off victims' hands with cutlass.
"We robbed four buildings in our last operation. I was given only N20, 000 in that operation. I wasn't even aware that Kunle Poly stole a gold necklace in one of our operations and the victims disclosed that they were robbed of N400,000. My gang members were just using me; they would go inside the houses and ask me to stay outside and watch out for the police. After stealing huge amounts of money from our victims, they'd hand over peanuts to me," he added.
Kunle Poly, a native of Ekiti State, told our correspondent that he went into crime because he had no job. He said he bought his first gun for N20,000 and that he founded his first gang solely to terrorize residents of Aboru area of Lagos State.
The 29-year-old, in an interview, said "Because I have no job, I was always spending my time at the Indian hemp joint in my area. It was Akorede who brought the idea of armed robbery and that we should buy a gun."
Lagos State Commissioner of Police, Zubairu Muazu, who confirmed the arrest, said that residents would now know peace after the arrest of gang.
He said before their arrest, the gang had attacked residents of about six buildings and had threatened to return to the area.
from dailytrust.com.ng