Tacha's fans who are known as Titan, are elated as the reality star is scheduled to meet with River State Governor, Nyesom wike.
Recall that Tacha reached out to the Governor for his positive impact on her life during her stay in the Big Brother Naija house.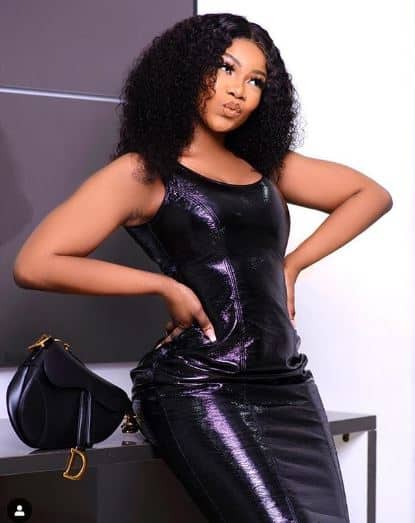 Tacha's  fans have been actively vocal on Twitter about her scheduled meeting with the Governor hoping that she'd get a political appointment.
Here's what people are saying about Tacha as she plans to meet Governor Wike today.
Let me hope Queen #Tacha gets a political appointment as she meets with Governor Nelson Wike

Who says politics should be out of her table. #TachaMeetsGovWike pic.twitter.com/FTGvWLD3GX

— Comradeˢᵀ – #HardTruth (@iAGB4REAL) November 9, 2019
The kind of Massive Turn out in Port Harcourt yesterday,you would think that Tacha is a politician ?

But u never can tell, this one she is meeting up with Governor Wike, a political appointment might just be in the works.

Titans,be ready for a BIG one#TachaMeetsGovWike pic.twitter.com/nGo0Ebv0nm

— AURA⭕COOL (@TWEETORACLE) November 9, 2019
#TachaMeetsGovWike #TachaMeetsGovWike #TachaMeetsGovWike

Yes o.. And today my queen will be meeting with his Excellency the honourable Governor of Rivers state Barr Ezenwo Nyensom Wike

Tacha was disqualified but yet she's celebrated.
It can only be God
We're greatful Lord pic.twitter.com/Eso8sbCfIK

— chidinma peter (@chidinmapeter7) November 9, 2019
I recall the house task where Tacha shouted out to her Governor Wike in the middle of the wager task, they dragged her.

Today she is welcomed home by Governor Wike himself…??

I'm so emosh!!! My heart can't take this.??❤️@Symply_Tacha is blessed?#TachaMeetsGovWike pic.twitter.com/vk1T9LeB5h

— OSIKIRI (@truthtutor) November 9, 2019
God please bless Queen Tacha and All the Titans in PH today. May her meeting with H.E. Nyesom Wike be a success. May the odds be in her favor. God's continuous blessings on Titans Worldwide. We pin ????#TachaMeetsGovWike #EverythingTacha pic.twitter.com/BFOfAm34LI

— OmaEbulu ?NLNT??? (@IEbulu) November 9, 2019