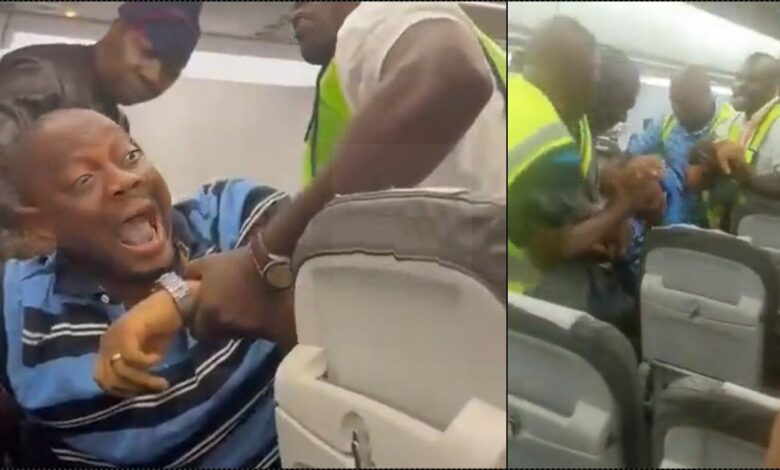 Passenger dragged off plane for inciting violence, saying 'Tinubu cannot be sworn in' (Video)
Nigerian flight passenger gets dragged off a plane for inciting violence and insisting that the president-elect, Bola Tinubu cannot be sworn in to lead the country.
A video making rounds on social media captured the embarrassing moment faced by a flight passenger who threatened others with his political views.
The man could be heard in the video insisting at the top of his voice that Bola Ahmed Tinubu will not be sworn in as the president of Nigeria come May 29th.
Other passengers of the aircraft insisted that the man's presence was unwanted and involved the flight's security.
The flight passenger, however, was dragged by four security officers while screaming at the top of his voice, 'Obidients.'
See some reactions below …
@Udic92138834 wrote: "This is so tiring. how can an adult behave that way. APC have to understand that Nigerian don't accept the 2023 rigging for such mischievous behaviour to stop they have to do what is right. that election was not free."
@khadijakuburat noted: "My advice to everyone, specifically the obedients, is to respect themselves and not be carried away by their emotions. He called his party people, but nobody responded.
Is it that none of them is on that plane🤔? This has proven everybody is on their own. Very sad. SAY NO TO TERRORISM."
@iMajorX added: "Important question; obidients claim they are large in number, that's an established fact. Why was he shouting "obidient" but not a single Obi-bot rose to back him?"
@livinusE wrote: "He is trying to save you and your family in suffering that is coming to Nigeria soon , if Tinubu swore in as a president of Nigeria , then you'll wish to have Buhari back . Dollar will be $1 to N3,000 in 6 months."
@kingehimen wrote: "This is not about @PeterObi, this is simply a passionate and concerned citizen crying for the destiny of his beloved nation not to be usurped by hijackers…But, I must also say this for the sake of balanced point of view, One should always be well behaved in public."
Watch the video below …