Popular rapper, Emeka Akumefule a.k.a Blaqbonez reacts to his landlord's decision to honour his request for a rent increment.
The rapper, in a viral video had pleaded with his landlord to double his house rent on the grounds that he was winning too much to stay on the same rent.
Sharing his hilarious conversation with his landlord who honoured his request, the rapper resorted to begging as he noted that he made the remarks under the influence of alcohol.
The message from his landlord on hearing his request read: "Dear Blaqbonez, Based on your popular demand on the social media that I should double your rent, I'm using this medium to reach you to accept your demand that your rent request has be increased. Your Landlord."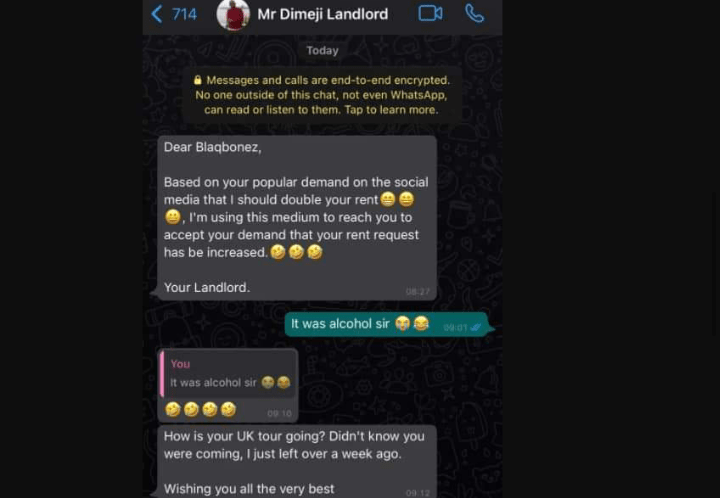 Watch The Video Here
Meanwhile, Netizens left the rapper with a couple of advice while others took a dig at him.
@SirJoeEve said, "Everybody blame alcohol even those that normally doesn't have sense will Deya poor alcohol. still blame alcohol for being mumu."
@Chidindu Igwe said, "E don clear his eyes, If na me aswear he must pay, bragging in social media and causing HBP to we poor masses."
@Egeolu Chinaemerem Henry said, "Oga landlord no gree oo✪✪✪✪. This one no be alcohol matter o."
@Miked: Learn to cut your coat according to your cloth @blackbonz