Viral News
Reactions As Young Lady Alleges Her Dad Mistakenly Credited Her With 10 Million Naira for Christmas (Video)
A young lady has been 'the talk of the town' on social media after she claimed her father mistakenly gave her N10 million for the Christmas celebration.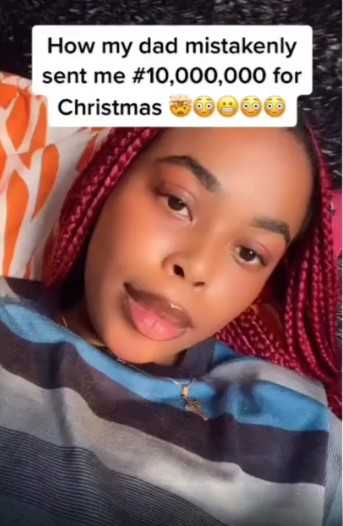 In a video gone viral, a lady could be seen narrating how her father credited her account with a sum of N10 million instead of the promised N1 million.
In her narration, she met with her father, who recently got back from the Bahamas and told him she has lists of everything she wants this Christmas season.
Her father then gave her an offer of N1million, but she complained as it wasn't enough for the list.
According to her, her father described her as ungrateful, but she insisted on an increment and stormed to her room after a series of denials.
After some time, she received a credit alert of N10M, which she then used to order everything on her list within hours.
Upon her arrival at home, her dad then told her that he made a mistake and would want a refund, but she then revealed that all the money is gone.
He berated her for being extravagant and irresponsible and said that he would no longer give her any more money for the rest of the year.
Watch the video below;
Many took to the comment to claim the young lady was lying, most asking for the credit alert proof. Take a look at some Nigerians' reactions below;