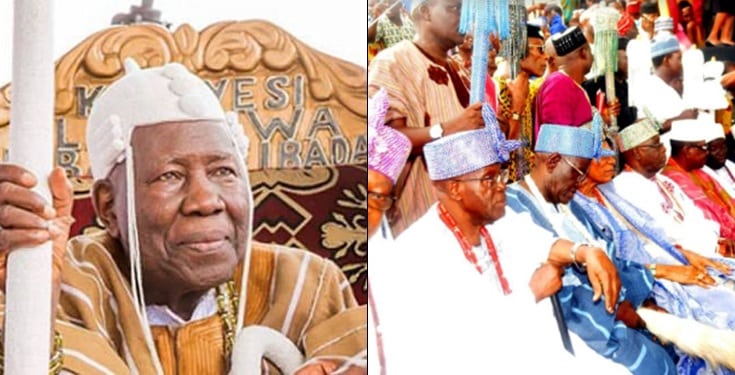 The Olubadan of Ibadan, Oba Saliu Adetunji has stated that the only way his embattled chiefs can return to his palace is if they remove their illegal crowns.
This was after the embattled chiefs who have crowned themselves Obas accused him of embarking on illegal practices and lacking respect for them as members of the Olubadan-in-council.
Reacting via a statement signed by one of his media aides, Mr Adeola Oloko, the Oba dismissed the statement credited to the embattled chiefs.
"There is nowhere in Yorubaland where two kings sit inside a palace ; it is always the king and his chiefs . Apart from violating our customs and tradition , there is no law that backs the wearing of illegal crowns in Ibadanland. "
"If anybody should be castigated for denigrating our institution , it is the embattled high chiefs with inordinate ambition to become monarchs without domain that should examine themselves . It is those who commit crime against Yoruba customs and tradition and do not repent that deserve to be castigated .

"It is those who run away from the palace and turn round to say they are not being carried along. It is those who flagrantly disobey court orders . It is the chiefs who are sent to represent the Olubadan at the Local Government Traditional Councils but seize Olubadan ' s salaries that have violated our customs and tradition . "