Popular Nigerian blogger, Gistlovers has revealed that Mompha isn't a bisexual neither does he sleeps with Bobrisky, rather he pimps him (Bob) to Arabs.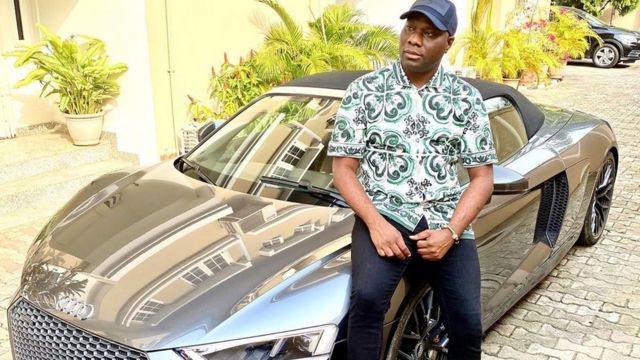 Gistlovers took to his Instagram page to debunk the rumors that Oye Kyme's allegation against the Instagram big boy, Mompha dating Bobrisky is false.
The controversial blogger stated that Bobrisky has been gay for so long including most celebrity married men.
He further revealed that Mompha only pimps Bobrisky to Arabians who are men and they give him loads of cash in return.
Here's what the blogger wrote;
"HELLO TUEH TUEH , OYEKYKE ABI NA OYEKYKE IS DUST CLOUT CHASING, MOMPHA IS NOT THE ONE DOING THE KNACKING IF YOU HAVE BEEN FOLLOWING US FOR A LONG TIME, I POSTED IT SOMETIMES BACK SAY MOMPHA NA DUST HIM PIMP, THERE ARE LOT OF GAY IN THE INDUSTRY, SOME OF THEM ARE MARRIED SEF, I KEEP REPEATING THIS THING OVER AND OVER AGAIN, ANY DAY WEY THIS TABLE CO BREAK,A LOT OF MARRIAGES CO SCATTER BECAUSE, PEOPLE HUSBAND NA HIM FULL ONTOP THE TABLE, MOMPHA PIMPS HIM TO ARABS THEN, DON'T KNOW OF NOW THO, BOB MAKES MOUTH A LOT, HE GOSSIPS ABOUT PEOPLE TOO, HAVE SOME VOICE EVIDENCE OF HIS GOSSIP".
"Oyekyke is clout chasing but no doubt, them dey do Bob for yansh, that gay matter is not new in the industry, one billionaire man is also on this table,him don sef no gree marry,oga son don join the caucus,) say this gbas gbos go scatters and stray bullet go hit plenty people if we drop the voice note o,shall we?INSTAGRAM LIFE IS MAKE BELIEVE,stop tapping into nonsense,a lot of them on this app are cooperate scamm**,na to speak English collect Una money,bullet go go round,e go touch everybody.) come in peace,igi covid oni wo pawa o"