Mohbad: Man gets emotional as he gets to meet the singer's child for the 1st time (Video)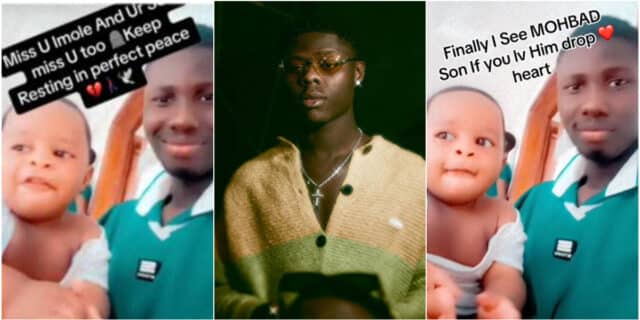 A young Nigerian man with TikTok handle @daniwizzy4, has shared a heartwarming video of himself meeting the child of the late Nigerian singer, Mohbad.
The video, which quickly went viral, shows @daniwizzy4 holding the KPK crooner's baby and smiling into the camera, expressing his deep longing for the talented singer.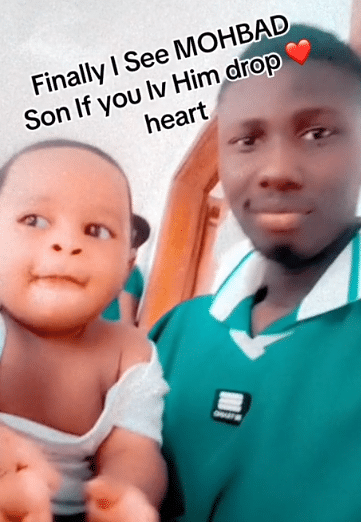 The video, posted on social media platforms, captured the genuine emotions of @daniwizzy4 as he cradled the infant, revealing how much he missed the beloved singer.
In a subsequent video clip, @daniwizzy4 added that he believed the child would also miss Mohbad, whose music had touched the hearts of countless fans across Nigeria and beyond.
He further expressed his desire that the Pariwo singer would continue to rest in peace.
The emotional reunion and the young man's genuine display of affection for Mohbad and his child elicited an outpouring of support and prayers from fans and well-wishers.
Many took to social media to offer their prayers for the child, expressing their hope that he would live a long and prosperous life, even longer than his talented father.
Netizens Reactions…
@Queen Belly said; "I cover Mohbad son with the blood of Jesus Amen."
@.Beckylight said; "God protection upon you imole Liam."
@Alhajijalloh90 said; "If mohbad come back to life today, we will forget wizkid and Davido for the rest of our life."
@Habolore said: "How will this little boy no get father again yah allah no let evil hand touch this baby lord am begging you."
@Quin ajoke said; "As am looking at the innocent boy with the way his smiling I can't control my tears."
@Ajoke said; "What stop your father will not stop you because you are unstoppable and untouchable God's grace will always speak for you in all your growth." 
@Teju Irorun said: "This is the only achievement he left behind, so painful."
@Kim Praise said; "God will protect you light of the world, you will prosper injn." 
See below;