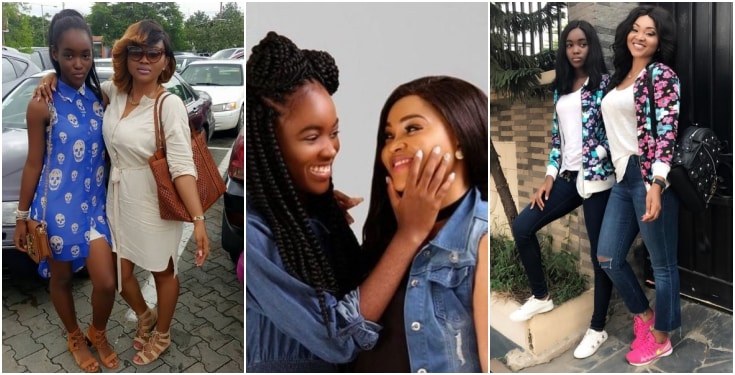 Nollywood actress, Mercy Aigbe has threatened to sue a particular blogger she claims is fond of always writing malicious things about her.
Few days ago, mom of two, celebrated Mother's Day by posting photos of herself with her children on her Instagram page.
While captioning the photos, she wrote;
I am a SUPER MOM cos I have a SUPER GOD!!!!…. Happy Mother's Day to all the beautiful strong moms out there, special shout out and respect to the women doing double duty because of men failing to do their parts as Dads! We are the real MVP ????? May we all eat the fruits of our labour in Jesus Name! ?

I am proud of many things in my life! But nothing beats being a Mom ????

It's takes only a Bad Ass Mom to be both Father and Mother ??? Almost 18 years now and it has been nothing but God's amazing grace!… ????
According to the fashion and beauty entrepreneur, the moment she writes anything on her page, the blogger counters it with a wrong information, with the latest being her mother's day post.
The actress, who didn't mention the blogger, said she has been solely taking care of her kids, since she had her daughter, Michelle Aigbe, almost 18 years ago but shortly after her mother's day post, the blogger wrote that her daughter's father has been responsible for her daughter's school fees, something she denied and said he has never done.
She has now vowed to sue the said blogger, saying she won't relent! She also deactivated her comment section on the particular post, meaning she wants no one's opinion on it.
She wrote;
This afternoon, I instructed my lawyer to write a blogger, who has made it in his/her life mission, to spread falsehood about me.

The latest, being that the father of my daughter has been sending money for her upkeep.
This lie is in response to the post I made on mother's day.

I could have allowed this lie to slide but henceforth, I have made a decision to challenge every form of falsehood. I know like many media people, this particular blogger might not take me serious. They believe there will be no consequence for spreading false news or if they beg, all will be well.

I'm putting it out here to let you know that this particular blogger lied. In the past 18 years I have been solely responsible for the upkeep of my daughter…. if the blogger believes otherwise, he/she should come out with Proof or face the consequences! ……I will not toil day and night to give my children the best in life and have one unprofessional, lazy, clout chasing blogger try to paint me Bad …….For the records, I will be pursuing this to a legal logical conclusion and challenge every form of falsehood hence forth.