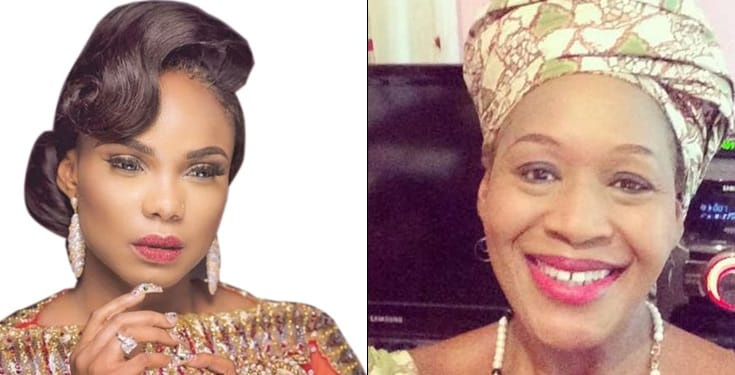 Actress Iyabo Ojo appears to have thrown a shade at controversial journalist Kemi Olunloyo by labeling her the real Yahoo Yahoo.
Recently, Kemi Olunloyo took to social media to accused Iyabo Ojo of being the brain behind her getting locked up in a prison in Port Harcourt.
She wrote:
iyaboojofespris#IyaboOjo crying crocodile tears reflecting on her crashed marriage. Like I said on pastor Ibiyeomie's pulpit, whoever sent me that letter that sent me to prison, God will deal with them mercilessly. Your tears just began. Apologise to Pastor Ibiyeomie and Kemi Olunloyo for pitching an innocent pastor against an innocent Journalist all because you were fighting Vivian Metchie and your PA who wrote the fake letter against you substituting Apostle Suleiman's name for Ibiyeomie's name. You and Gbeminiyi Adegbola will not make heaven for sending me to prison for 6 mos and ruining my name Amen! I will release the letter in detail in my book which your PA also describes your daughter Prisca as a "runs girl in training." Thank u Apostle Suleiman for the text message contacting me, Pastor Ibiyeomie who prayed for me and Toronto Police Officer CM who tracked the instagram account that sent it and Truecaller in Sweden who exposed the SIM owner Iyabo Ojo Pinkies group. Flag this post too. It is a documentary and an upcoming book. Your legal papers and lies will all
A recent post by the actress appears to state that Kemi Olunloyo is only trying to use her name to seek attention.
She wrote:
Well! well! well!! Manipulating people with my name to seek attention & emotionally blackmailing them to donate money towards a made up lie you created in your head to seek sympathy is a BIG SCAM and totally unacceptable…… You're the real yahoo yahoo, in fact yours is a PLUS. Awon online mummy ……… be prepared ?…… Ewa alright Las Las