Ifa priest speaks on paternity of Mohbad's son, sends message to Kemi Olunloyo, Tunde Bakare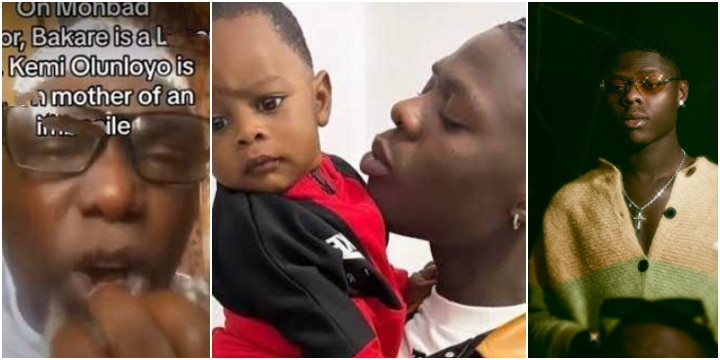 An Ifa priest has taken to social media to condemn the controversial remarks made by popular journalist Kemi Olunloyo and Pastor Tunde Bakare regarding the late singer Mohbad.
The priest passionately defended the late artist's parental status and criticized both individuals for their comments.
Kemi Olunloyo had recently sparked a heated debate by suggesting that the child Mohbad publicly acknowledged as his own was no longer his.
She questioned the authenticity of Mohbad's claim, stirring up controversy and outrage among fans.
In response to these remarks, the Ifa priest asserted that when a man publicly acknowledges a child as his own, that child is indeed his, irrespective of any biological ties.
He firmly stated that Mohbad introduced the child to the world as his, and it should remain as such.
The priest's comments did not stop at Kemi Olunloyo, as he also directed criticism towards Pastor Tunde Bakare, known for his influential position in religious circles.
Bakare had made statements implying that Mohbad deserved his untimely fate, a view that drew widespread condemnation and disbelief.
The priest expressed his disappointment in Bakare, highlighting the insensitivity of suggesting that someone should face such a fate based on their associations.
In his words;
"As the priest and preacher of the gods of our land, it is my duty as prescribed by the Ifa oracle to intervene on behalf of any individual that is being harassed and oppressed by any influential person.
"That is why I'm taking on Pastor Bakare and Dr. Olukemi Olunloyo over their continuance derogatory utterances on the family of Late Mohbad, the young musician that passed recently.
"It has come to my knowledge that Dr. Kemi has been saying that the child of the late singer that he accepted as his child when he was alive is no longer his child. Let me clarify something to Kemi Olunloyo, anytime a man comes out and says this is my child, that child is his.
"Any man raising a child whether it's his biological or not and he comes out and says that's his child, it is his child. Mohbad introduced that child to the world as his and it stays like that, no more no less.
"What you are doing is destroying a baby's future. Go and take care of your own child and stop seeking attention unnecessarily with other people by stepping them down and when it comes to Pastor Bakare he said Mohbad deserves what he got.
"For a pastor of the European God to utter such utterances it's very disappointing but every body know Bakare to be the biggest loser of all times, he always seeks attention and that is what he is doing.
"It's extremely bad for him to be using that boy to be preaching and saying to the word that he deserved to die. His mother is alive and you are making such statement that he deserved your die because of the group he kept. That is the word of someone who has brain tumor."
Netizens Reactions…
@austaraphael reacted; "This is what happens when you're learned, I don't care what you do but once you're sound upstairs I can listen to you all day and this man right here is. Tank you daddy."
@seyrahsbukka commented; "As long as Mohbad introduced the boy to the world as his child, then YES, IT IS HIS CHILD!"
@eyinjuoluwaa001 said; "God bless this MAN. The ifa of the land bless him and whoever he believes in and worships bless him."
@iyalodeofabuja commented; "Ifa worshippers are way better than Nigeria Christians!"
@_velvetmystique205 reacted; "As a Christian I'm disappointed in pastor Bakare. We all know kemkem is a werey right from tym tho. Dem nonDey listen to datwan. Buh daddy Shey we can consult Ifa on mohbad's killers and send thunder sharp sharp? Cox this police investigation is taking a long tym." 
@leaddyskincare reacted; "As long as Mohbad didn't deny nor argue he is the Father's child when he was alive,leave the DNA thing alone. Period!"
@iameniolamyde said; "I may not believe in what you believe in but everything you said, I completely agree with. May what you believe in continually work for you Sir. You're an epitome of wisdom." 
See below;