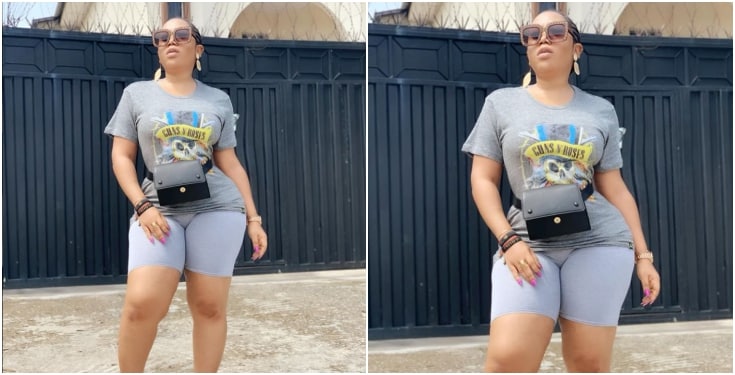 Unfortunately, photoshop doesn't seem to agree with one's intentions all the time. Like every other Nollywood actress, Moyo Lawal has been caught in the editing net.
The naturally endowed actress was caught photoshopping her hips in one of her photos.
Moyo Lawal dropped a picture of herself on the gram and her followers will not stop talking about it.The beautiful actress set out to post a beautiful picture of herself, all she wanted to do was put out the best image of herself possible.
She apparently tried using a photo app to enhance her hips, but a gate at the background suffered the consequence.
She probably noticed that her hourglass figure wasn't as pronounced as it was supposed to be. She therefore went to photoshop to seek solace by enhancing the photo. Now her followers are saying she had a photoshop fail would not stop dragging her on Instagram.
She captioned the photo,
"I know some people will still argue that , I was wearing a bra ?…. but it is only a woman that knows the father of her baby ??….. …… …. …. … …. p.s #Badass but you already know that ….. .. #ML"
Here's what her fans are saying about the photo.