"Don't turn marriage into a business, let side-chicks be" – TV personality, Princess Onyejekwe tells Laura Ikeji
Reality TV star and media personality, Princess Onyejekwe has reacted to the video made by businesswoman, Laura Ikeji pertaining to side-chicks and married women.
In the video shared by Laura Ikeji on her Instagram page, she urged women to cultivate the habits of saving and investing their money wisely.
This is because, after close observation, she figured out that side chick's str living better off by driving in Range Rovers at living a lavish lifestyle, unlike the wives.
Reacting to this; Princess had told Laura not to advise people to turn their marriages into a business scheme.
She wrote;
"Pis don't turn marriage into a business…this advice is inappropriate. Let side chicks be side-chicks….if you are that bothered you can be a side wife".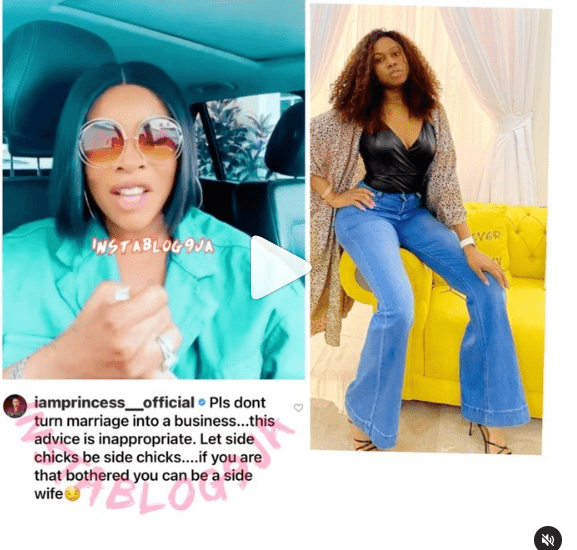 See comments Princess post has generated below;
@joewhite4u wrote; You just want to trend Princess. Laura made a valid point. Don't be unfortunate?
@long_ass_day wrote; Where did she even conduct a survey to know that side chics are getting wealthier than the wives. Side chics flaunt on social media, wives are busy doing other things
@treasuredaniel_ wrote; Princess is pained because she's a side chick!! Leave Laura alone, out of all languages she chooses to speak facts!!