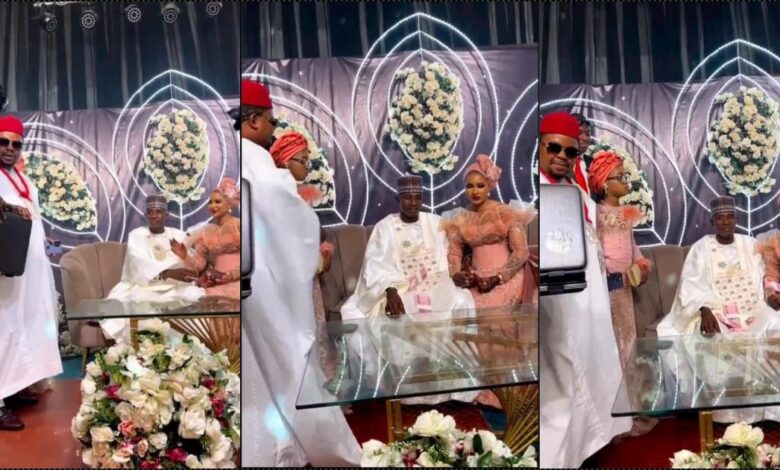 Couple speechless as businessman rains bundles of new notes on them at their wedding (Video)
A video of a Nigerian businessman throwing bundles of freshly minted naira notes on a couple on their wedding day sparks controversy over the man's actions.
The couple was sitting at a wedding reception when the man stormed the venue with a briefcase that appeared to be well-loaded with money.
He then proceeded to throw bundle after bundle of naira notes at the couple, who sat and watched in silence as the money rained down on them.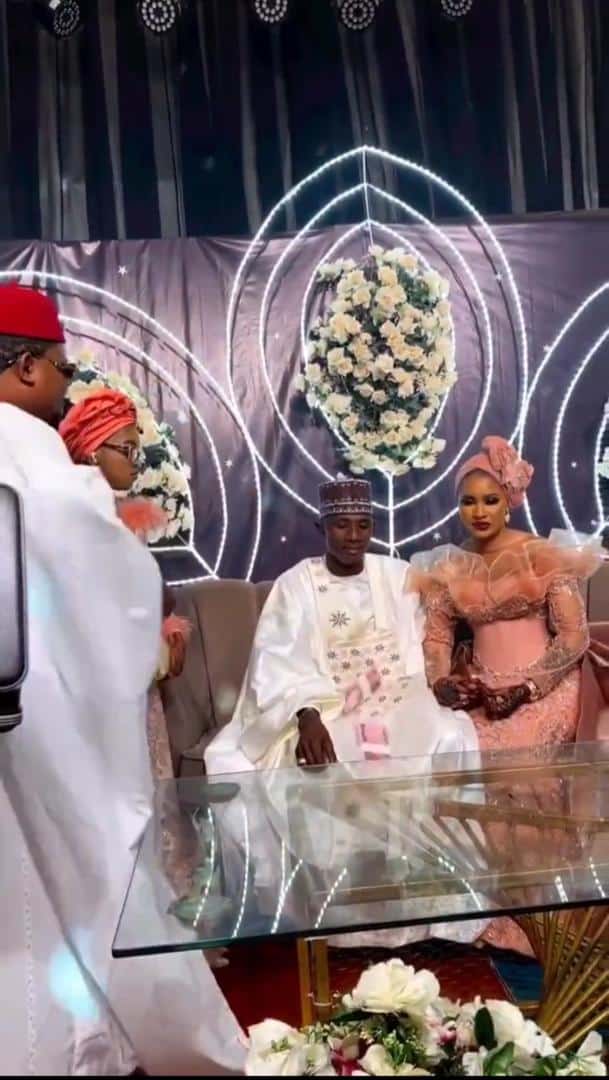 The video, captioned and posted by a Twitter user @aniekennamdi15, has since caused a stir on social media, with many users expressing mixed reactions to the man's actions.
@aniekennamdi15 wrote; " I think this is wrong….what do you think?
While some applauded the man for his generosity and wished for such blessings, others were critical of his actions, describing them as disrespectful and inappropriate.
Several users picked holes in the way the man threw the money at the couple, noting that it was not done in a respectful manner.
Some also pointed out that the man was throwing scarce new naira notes at a wedding party, which they felt was unnecessary and insensitive.
Reacting to the video, one Twitter user, @realDrKTB, said:
"I don't think it's right to throw money at people like this. It's disrespectful and unnecessary. There are better ways to show generosity and kindness."
Another user, @tobifizzle, added:
"While I appreciate the man's intention, throwing money in this manner is insensitive and uncalled for. We need to learn to be more respectful of others."
On the other hand, some users saw the man's actions as a sign of good fortune and wished for the same level of prosperity.
A user identified as @Rosewrote1 commented,
"God please bless me enough to throw money in celebration and it wouldn't be a problem."
Despite the mixed reactions, the video has continued to gain traction on social media, with many users sharing their thoughts on the man's actions.
As of the time of writing, the man in the video has not been identified, and it is unclear where or when the incident took place.
However, the video continues to circulate on social media, prompting a range of reactions from users around the world.
See below;
I think this is wrong….what do you think? pic.twitter.com/nvRBO4WAw8

— 𝕭𝖊𝖑𝖑𝖆𝖒𝖞 🇰🇷 (@aniekennamdi15) May 7, 2023