Chichi tears up as she speaks on childhood trauma, depression, fight with Phyna (Video)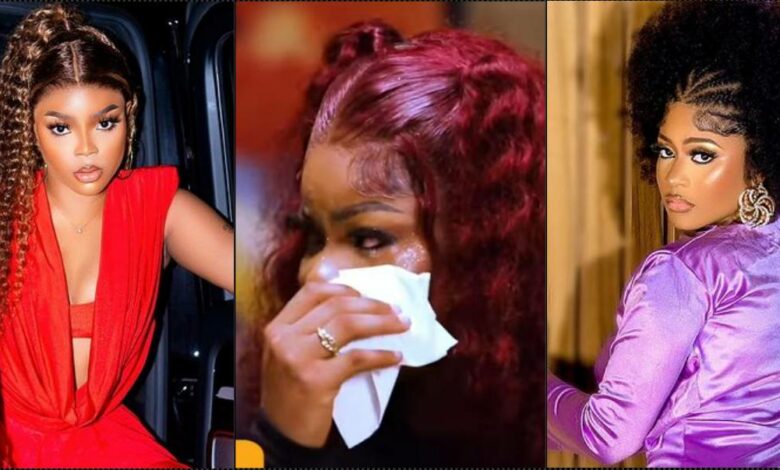 Ex-BBNaija 'Level Up' houseate, Chichi shares tear-jerking insights into her childhood, why she went into stripping, and her sour relationship with her once closest friend, Phyna.
During an interview with the renowned media personality, Chude Jideonwo, Chichi became emotional as she recounted a challenging upbringing marked by experiences that no young girl should endure.
She implied enduring physical and sexual abuse, underscoring the profound hardship she faced during her childhood.
Regarding her profession as a stripper, Chichi explained that her journey into that field was influenced by a series of deeply personal events that shaped her life. However, she expressed her belief that many Nigerians might struggle to comprehend or empathize with her unique story.
The reality TV star added that she fell into depression and misery following a BBNaija reunion event. This distress led her to deactivate her social media accounts, as she believed that the reunion was orchestrated to tarnish her brand.
In relation to her legal action against Phyna, Chichi clarified that her fellow reality star had made several damaging allegations against her, prompting her decision to pursue a lawsuit.
Chichi on depression and trauma; Why she went into stripping; Fight with Phyna
"I have gone through things a girl child shouldn't go through. Just think of anything in your head, I have gone through that. I have seen it all, physical abuse, sexual abuse and all.
There is nothing that I have gotten that anyone gave me for free. The only thing I got for free is Big Brother Naija, cause I don't know how it happened but I just thank God, because nobody ever saw something good in me even when I was a child.
A lot of things happened, that's why I went into stripping, but a lot of people wouldn't understand, because Nigerians aren't ready to relate to my story.
After the reunion, I was depressed. I deactivated my Instagram, and even now I am on and off because it's not easy for me.
After the reunion I was in a miserable state because I felt I went there to be destroyed, to be rendered useless – my brand and everything".
Watch the video below …