A story of how a young boy was beaten to death by his teacher in St. Valerian School, Akpaka, Onitsha, Anambra State, while the Catholic Priest in charge of the school allegedly bribed the victim's family to keep mute has been a made a subject of discourse on social media.
Narrating the story on Twitter, @Chude_ wrote: "A boy was beaten to death by his teacher in St valerian School Akpaka, Onitsha. Catholic priest in charge of the school gave the family 200k naira, told them to bury the child and forget about the case. Police was not involved & the child Izuchukwu Onwualu has been buried."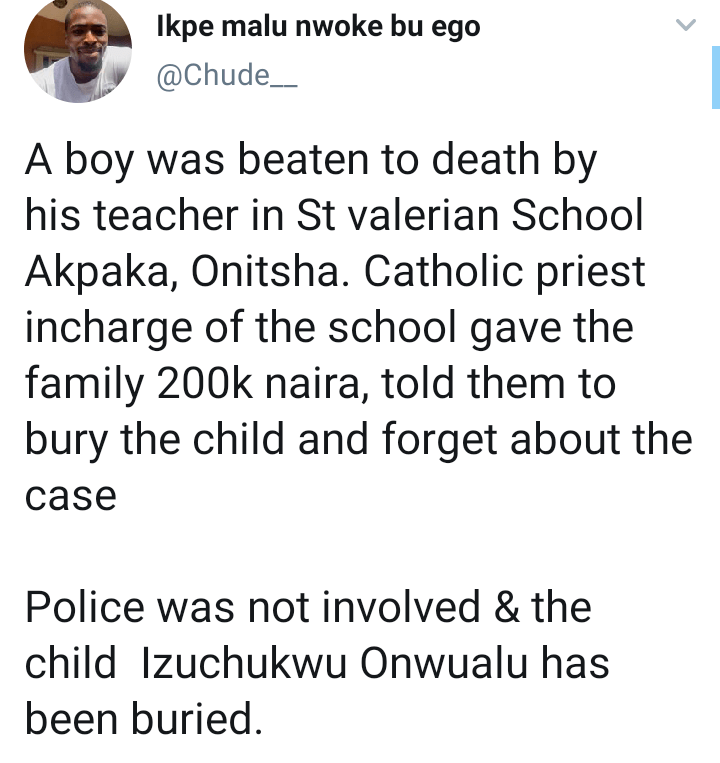 Meanwhile, one of the victim's uncles confirmed the story in another platform, noting that the Catholic priest and the school came to their house and pleaded for peace immediately the tragic incident, and they accepted and buried the deceased.
In verbatim, he wrote: "They killed my brother's son and we have been in the hospital since yesterday and he died this morning.
"The school teacher was beating him with bottle water can on his head, and also slapping him, and it was too much on him so he tried to run away and the teacher put him, then his head hits on d floor and he had internal bleeding.
"It was alot of shit for me since yesterday til now.
"But the Catholic priest and the school came to our house today and pleaded for peace and we accepted and buried him 7:28 pm
"It was a total mess for me and my family."