Housemate JMK's past tweet has been dug out where she made the clarification that she isn't interested in Nigerian reality TV shows.
Few minutes after she was introduced into the Big Brother's House as one of the new housemates, her old tweets were dug out including trolls against Grammy award winner, Wizkid and other former big brother Naija housemates with a massive fan base.
On the other hand, the tweet resurfacing now, she had tweeted that she would never have noticed former Big Brother housemates if not for Twitter because she's not interested in the show.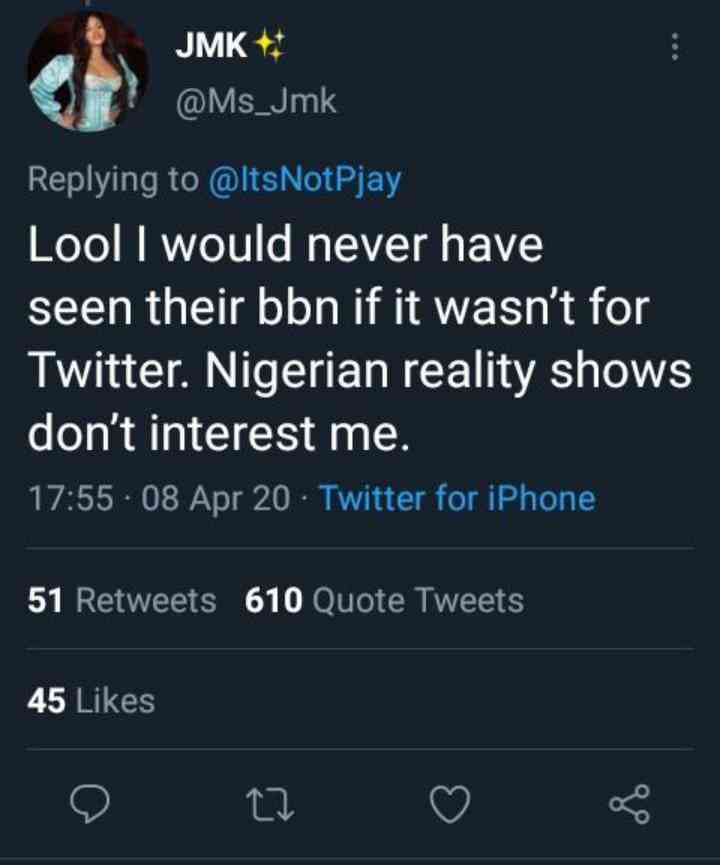 In related news, housemate JMK Twitter handler has apologized on Twitter on behalf of JMK for trolling star boy Wizkid and other former Big Brother housemates.
Taking to her Twitter account, the handler wrote,
"The Internet never forgets oooo. We live, we learn…. I'm sorry."
This is after Twitter NG has threatened to withdraw any form of support to the housemate for being a troll.