The presidential candidate of the ruling All Progressives Congress, Bola Ahmed Tinubu, has been accused of committing perjury following his Friday's affidavit to the Independent National Electoral Commission, INEC.
In Tinubu's affidavit to INEC, which was part of his eligibility filings for the 2023 presidential elections, the APC presidential candidate contradicted his previous affidavits he had submitted to the electoral body while seeking elective positions in the past.
This time, the APC presidential candidate opened up to the commission that he never attended both primary and secondary schools.
On social Twitter, Femi Aribisala, a columnist and a social commentator, who had in the past faulted Tinubu's educational data, maintained that the APC presidential candidate has committed perjury because he had lied that he attended primary and secondary schools under oath.
Femi Aribisala wrote: "I wrote in 2014 that Tinubu's affidavit that he attended Government College Ibadan (GCI) between 1965 and 1968 is false. I was in GCI from 1962-1968, and Tinubu was not there. Tinubu now tells INEC he did not go to primary or secondary school. This means he committed perjury."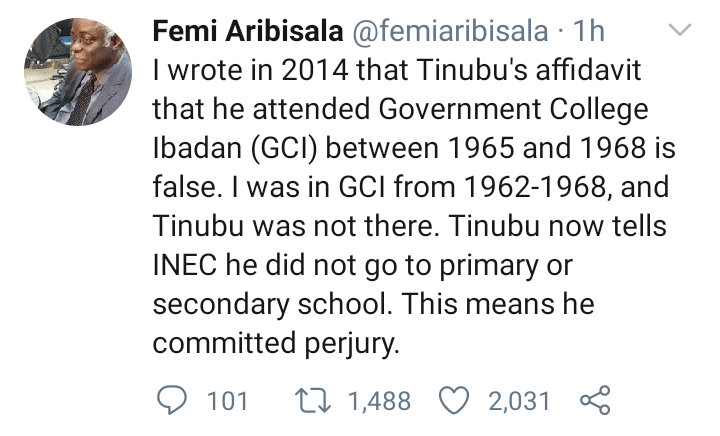 In the Nigerian online space, many have called on INEC to disqualify Tinubu for committing such a weighty offense (lying under oath).
Meanwhile, in the affidavit which was submitted to INEC and cited by Peoples Gazette, Tinubu, however, claimed that although he didn't attend primary and secondary schools, he had two degrees from two American universities which were stolen by unknown soldiers.
Further reports observed that the documents columns for Tinubu's primary and secondary education were left unmarked.
Speaking on his stolen certificates, Tinubu was quoted by the report as saying: "I went on self-exile from October 1994 to October 1998. When I returned I discovered that all my property, including all the documents relating to my qualifications and my certificates in respect of paragraph three above, were looted by unknown persons.
"My house was a target of series of searches by various security agents from the time the Senate of the Federal Republic of Nigeria was forced to adjourn following the military takeover of government of 17th November 1993.
"I was the chairman of the Senate committee on appropriation, banking and finance.
"I was the chairman of the Senate committee on appropriation, banking and finance. I was also a plaintiff in one of the two suits against the interim national government in 1993.
"I went on exile when it became clear to me that my life was in danger."