A 42-year-old woman has given birth to five babies at Federal Medical Centre (FMC) in Lokoja, Kogi state, after 18 years of waiting. The woman identified as Uchenna Okeigbo delivered her kids are in good condition.
In an interview with NAN, the woman expressed gratitude to God for the rare gift.
She said: "It is not easy to have five children at once." She also showered praises on her husband for standing by her."
The father of the quintuplets identified as James Okeigbo is a 47-year-old man. He was overwhelmed with joy, and described the coming of the babies as the happiest moment of his life and his wife as well.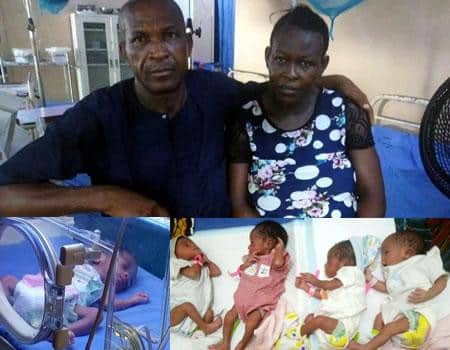 He said: "I thank my wife for retaining her respect for me for this 18 years of childlessness without quarreling with me. I am also grateful to her family for standing by us."
James, however, solicited for assistance from government and members of the public to ensure adequate care for the five children.
He said: "As a good citizen of Nigeria, I am appealing to government to help us."