"When are you coming out" – Pregnant woman carrying 40 weeks pregnancy questions unborn child
A heavily pregnant woman who has carried her pregnancy for 40 weeks has questioned her unborn child when she will come out.
The mother with the baby bump identified as Alphaa Ndeunyema took to her Tiktok page to question her unborn child when it will be ready to come out.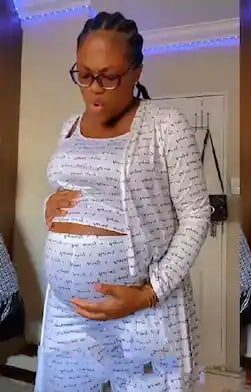 The pregnant woman who seems tired of carrying her unborn child disclosed that she has been carrying the pregnancy for about 40 weeks and can't wait to carry her unborn child in her arms.
While clutching to her pregnancy, she said;
"When are you coming, my angel? I have carried you for 40 weeks now. Is it not enough? 10 weeks, 20 weeks, 30 weeks, and 40 weeks now? No sign of labour. Mummy is waiting. I can't wait to hold you in my arms." 
Watch the video below.