"What are you doing with this guy?" Angela Okorie exposes Uche Elendu's chat with Uche Maduagwu
Actress Angela Okorie has reacted to a leaked conversation between Uche Elendu and Uche Maduagwu.
In the chat, Uche Maduagwu queried Elendu to know the cause of her beef with Angela Okorie.
However, Uche Elendu refused to divulge any information as she maintained that she had no problem with her.
Angela Okorie exposed the chat on her page on Instagram asking Uche Elendu what he was doing with the actress.
"What are you doing with this guy who get only one bra evang Uche. Dirty people", Angela Okorie said while leaking the chats.
See her post below: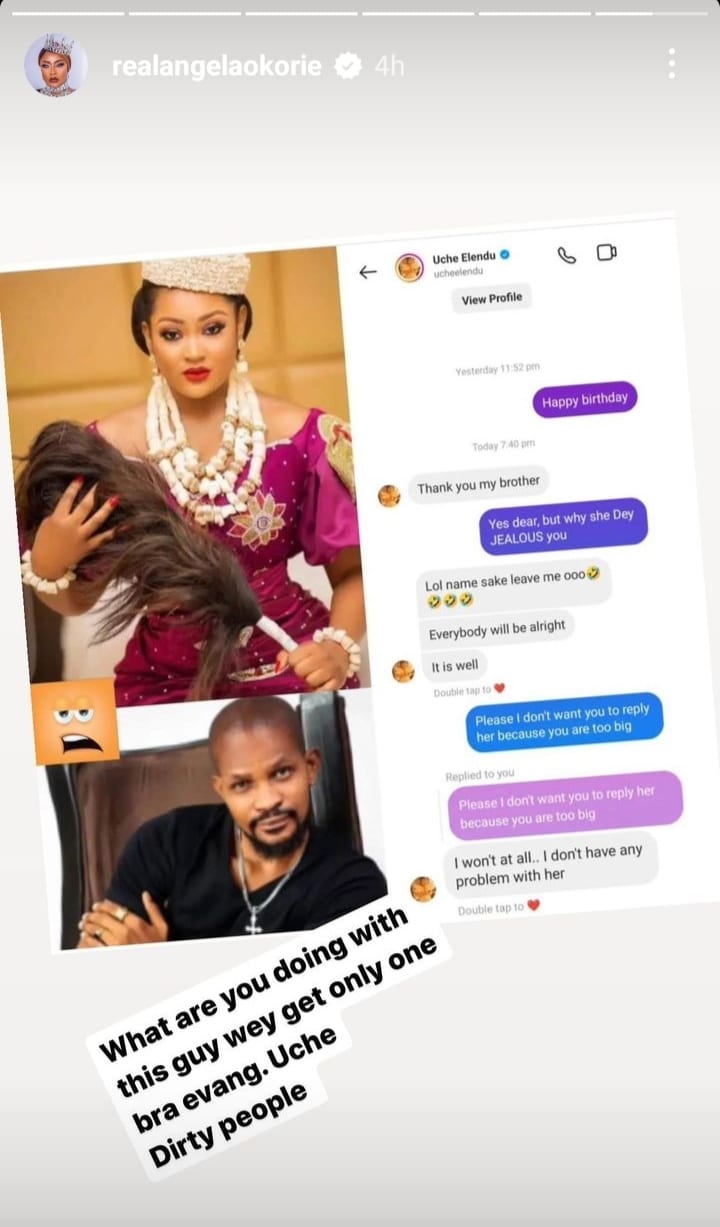 This is coming shortly after Angela Okorie accused Anita Joseph and Uche Elendu of sleeping with a native doctor for fame.
In her words:
"I never post the one wey Anita and Uche go sleep with native doctor for fame. I dey come with prof. The oyinbo girl wey follow una go don repent turn to God.
"She doesn't lie. I dey come o. Married women go just dey knack anyhow. Dem dey post church wey dem go. I dey come with full vawulence.
"The evil you support today might turn against you tomorrow. Call out evil anywhere you see evil. Una no say I no like trouble. E no mean say we dey fear anybody o. No underrate me. 2 seconds everywhere go burst.
"See I like to stay on my own. Some people say it's boring but that boring life have saved me from a lot of these fake friends no lies. Nobody stays forever. Nothing lasts forever. Be good. Be kind. Stay humble. Stay loyal."