Uche Maduagwu falls to the ground as lady gets into serious fight with him on the road (Video)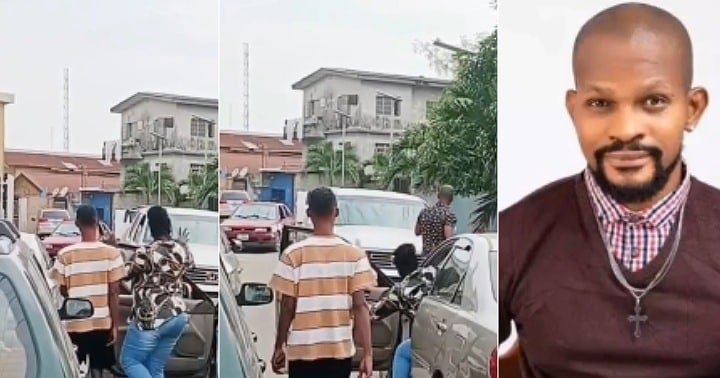 A video making the rounds online has captured the moment a Nigerian lady furiously stormed out of her car and landed slaps on Uche Maduagwu.
In the video, the lady had gotten into an altercation with Uche Maduagwu when it got heated up, leading to physical confrontation.
Uche Maduagwu fell in the video as the angry unidentified woman rained heavy slaps on him while eyewitnesses watched in shock.
Netizens have shared their opinions about the video as many stated that it was unfair for the woman to phisicallly assault Uche Maduagwu despite whatever offence he might have committed.
olayeni02 said: "Even though Uche needs a reset slap, I won't condone nonsense. Let's be realistic, many women just believe that they have the right to slap a man."
Ablessoo commented: "If this isn't clout, the woman is wrong."
Restoring_womens_confidence stated: "If this is turned around you will see people chanting violence but since it's a woman hitting a man they see nothing wrong with that. No matter what a woman should not hit a man and the same goes for a man hitting a woman too."
Djpricelessvibes said: "This Is Inappropriate! How Can You Hit A Grown Man Like That?!! If This Was The Opposite People Will Brak Out Of Chain ⛓️ Let's Stop Every Act Of Violence 🙏🏻🙏🏻🙏🏻."
Tosinjuls added: "I don't want to know the woman's story in this situation. That guy needs the sl@p 😂."
Watch the video below: