Uche Jombo, Toolz, Simi, Tekno, Lala Akindoju and other Nigerian celebrities slam Desmond Elliot
Some Nigerian celebrities who are not happy about the social media regulation comments Desmond Elliot made, have taken to Twitter to react and slam him.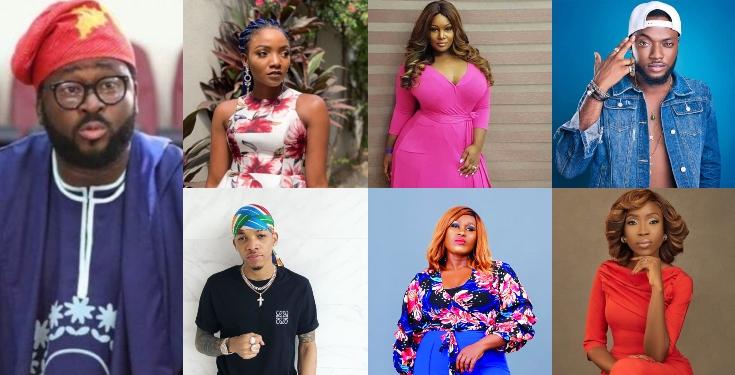 Lagos lawmaker, Desmond Elliot has been receiving backlash since two days after following his speech on social media regulation at the Lagos state House of Assemble meeting.
Recall that in the viral video which captured the Surulere lawmaker's submission on the Lagos carnage, he asked the celebrities and influencers "to stop the hatred already".
See tweets from superstars like Simi, Tollz, Uche Jombo, Lala Akindoju, Tekno, dremo, Donjazzy, praize, Skales, John Ogu and more.
See their tweets below…
Desmond ??‍♂️??‍♂️??‍♂️

— ITS DON JAZZY AGAIN (@DONJAZZY) October 29, 2020
Desmond Elliot you are canceled

— DREMO?? (@Dremodrizzy) October 29, 2020
I hate to say cancel but that Nigga a snitch snitch and a liar ? … this is real life not Nollywood no disrespect to the other amazing Nollywood people…. baba na puppet hehehahaha https://t.co/rVZ7QOEn8S

— SKALES (@youngskales) October 29, 2020
Desmond Elliot cancelled ❌

— PRAIZ #ENDPOLICEBRUTALITY (@Praiz8) October 29, 2020
Desmond elliot wey be say Na only bucket of water he buy take use as hand sanitizer for him area during COVID wants to tell us how to use Social Media

— John Ogu (@ogujohnugo) October 29, 2020
The Vilification of the Nigerian Youth – Ep.3. The Nigerian youth are so rotten, they're cursing politicians online.?Let's not focus on why they're angry, but on how rude they are. ?
Like Bobrisky said 'insort never killed anybody'. Fix up & do your job Uncle Desmond. #EndSARS

— Toolz O.D (@ToolzO) October 29, 2020
Cousin Desmond should have used the same energy to fight for us. Now he's collecting money, we're "children". ????You can see it's not about age. You can be 22 years old and wicked. "Celebrities yen yen"…they didn't vote for celebs, they voted for you sir.

— Simi (@SympLySimi) October 29, 2020
Desmond idiot

— TEKNOOFFICIAL (@alhajitekno) October 29, 2020
Desmond Missy, Oh Sorry !
Desmond Elliot who's your supplier?
You don buy big market o.

— DJ Neptune #NoBodyIconsRemix (@deejayneptune) October 29, 2020
The same social media they "USED" to package themselves into power.

— Uche Jombo Rodriguez (@uchejombo) October 29, 2020
Honestly I'm more than disappointed in Desmond Elliot. I'm so shocked. Anyway, we have been praying that God should expose the real state of mind of our leaders. Now we know how he really processes things. I pray the people he looks forward to representing in 2023 remember today

— Kemi Lala Akindoju (@lalaakindoju) October 29, 2020
You can be educated yet not enlightened. Majority of those we vote into office are obviously not the latter. Get your PVC out. Stop staying home during elections.
We must remove people who do not believe in the democratic process. #EndSARS #EndPoliceBrutalityInNigeria

— Rita Dominic (@ritaUdominic) October 29, 2020