Beyonce's Beyhives, Nicki Minaj's Barbz, Wizkid FC and other extremist celebrity stans have nothing on Big brother Naija 2019 winner, Mercy Eke's fans, who are currently not taking it easy with Feyikemi Abudu, a popular Twitter influencer.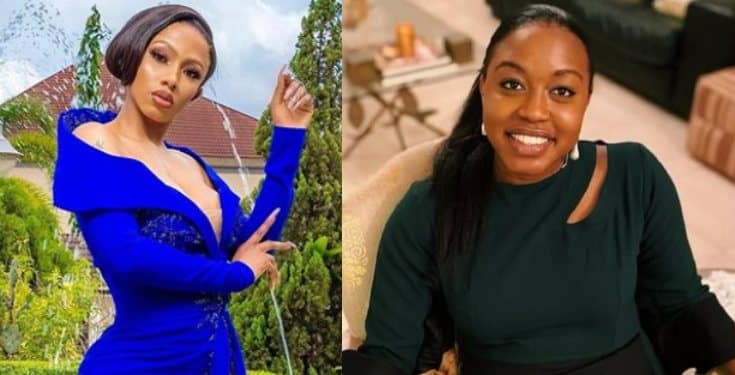 FK Abudu used Ozark's Marty Byrde and his wife Wendy's photo to insinuate that Mercy's newly launched real estate company, Lambo Homes is used for money laundering.
FK's post came shortly after the reality star posted a video launching her new business, Lambo Homes. While a lot of people congratulated her for being so business inclined and using putting the BBNaija platform to a good use, FK Abudu posted the photo below…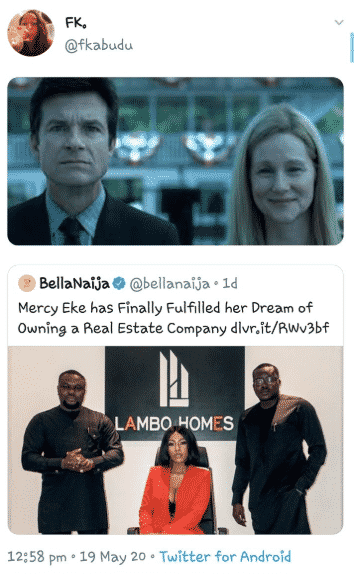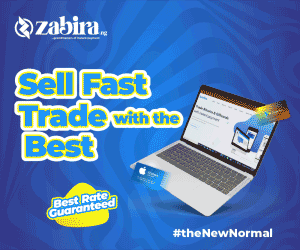 Now, for those who don't understand the photo or haven't seen the movie, this is a photo from Netflix series Ozark, which dramatically depicts the life of Marty Byrde, a financial advisor who slips deeper and deeper into the world of money laundering for a Mexican drug cartel.
Her suggestion according to a lot of people meant that Mercy's real estate company is for money laundering.
Apparently, this didn't go down well with Mercy's fans (Mercenaries), and some other Twitter users, and they took to the platform to drag and also threaten her.
See some reactions below…
@fkabudu I'm going to tell the story of how your family is filled with thieves and rapists as well as murderers

It's going to be in a joke form and I hope you will find it funny

Useless child of an unfortunate home

Your type should have been aborted at birth https://t.co/qxzolpezF1

— Lambo Homes in y'all Faces😂😂🛡🛡 (@MercilessMercy2) May 19, 2020
I pity whoever has this picture give me 2 weeks and see what happens
May you never see anything good
You will see sorrow and ask God why you pic.twitter.com/U65w5Xv63d

— Lizzy relass Eke loves ashawo silicone butt 🍑🦎 (@Ladyqut1) May 19, 2020
Nah. You could have congratulated her some other way but you had to be condescending. Insinuating that her real estate ish is a front for money laundering. Do you know how serious it is? Even your replies till now just get as e be. Saying it won't affect her business or image

— Brown Sugar (@yettyclassy) May 19, 2020
Whatever it is,
It's not okay to publicly insinuate (jokingly or not) that someone is a money launderer Sha especially when you have no proof.

But anyway, since its one of Twitter NG faves, let's just LOL and call it bants until the next women supporting women topic comes up.

— Olayide (@Ola_yide) May 19, 2020
Now I'm actually quite annoyed and sad by this money laundering issue. Everything aside that is a serious offense and nobody deserves such accusations. I'm so tired of people unnecessarily abusing Mercy when all she does is mind her business. I'm so tired 💔

— 🌑 (@itstheephantom) May 19, 2020
Why are you ppl saying mercy's lambo homes is for money laundering why???

— OMOTOKE BILLIONAIRE (@OmotokeTiger) May 19, 2020
After much ado, @fkabudu has refused to apologize nor taken down that tweet insinuating Mercy Eke's new business venture is a money laundering front.

She claims it's a joke but won't retract it now that it's clear it's a bad joke.

— Ladi Ogunseye 🦁 (@LadiSpeaks) May 19, 2020
She has blocked me. Mercenaries continue from where I stopped….These are her pictures, use it to drag her, it will hit her hard trust me. pic.twitter.com/jAaNhmPwow

— Warrior Princess 🦎🦎🔰🔰🔰 (@Kayc_TheWarrior) May 19, 2020
Some even went further to email her;
They've started emailing me too God😭 pic.twitter.com/Dgnpk4V3By

— FK. (@fkabudu) May 19, 2020
She has blocked me. Mercenaries continue from where I stopped….These are her pictures, use it to drag her, it will hit her hard trust me. pic.twitter.com/jAaNhmPwow

— Warrior Princess 🦎🦎🔰🔰🔰 (@Kayc_TheWarrior) May 19, 2020
The show Ozark is about a couple that do money laundering. That's their pic. The BBN mercy babe has opened her real estate company. So the math is pretty clear now I hope. https://t.co/la2LfnvwIB

— Hafsat H (@Haffy_h) May 19, 2020
It's all jokes and fun insinuating that Mercy is running money laundering with her new business.

Till they say you're making your own earnings from sleeping with men.

It be women stepping on fellow women's neck

— Moh Worldent💭 (@MohWorldent) May 19, 2020
Imagine accusing a stranger of being involved in money laundering just because you are not privy to their milestone or bank account.
Mercy better take this as a compliment and ignore them.

— Lou 👑 (@Adamama_) May 19, 2020
So if it was a man that launched that company, they would hv still said it money laundering? Or its because it's Mercy?

— RELASS🌸 (@cyndarilla_) May 19, 2020
Let the fk lady come and give reasons why it looked like a money laundering front.
Is it because Mercy is Igbo, or because her partners are Igbo, or because she's female or because Mercy doesn't appear enlightened enough to have such aspirations?

— Mobile Massage Therapy Service (@Chukulee_) May 19, 2020
She got a house.. *she slept with someone…audio house*
She got a car…* she slept with someone*
She got a company running up…* money laundering *
Fuck all of you and your opinion and let the woman be.
If it's so easy fucking use your pussy and show us the results.

— MERCY EKE'S BENZ 🛡 (@Chichi31741656) May 19, 2020
Money laundering really?
You have a Netflix account and you automatically feel woke. pic.twitter.com/d10huCjPcC

— MERCY EKE'S BENZ 🛡 (@Chichi31741656) May 19, 2020
Only Mercy went from Ashawo to Illuminati, now it's money laundering.. Twitter NG never cease to amaze me.
Y'all can hate from morning to night but you can never stop #MercyEke Greatness

— Larry Cruz (@LarryCrr) May 19, 2020