"This is how we bath in Dubai" – Nigerian lady reveals ice block bathing saves them from hot weather
A Nigerian lady has revealed how most Africans living in Dubai survive the hot weather by bathing with ice block.
The Nigerian lady identified as Bassey Annabel, who shared the video online disclosed that the weather in Dubai is very hot during the summer period hence one has to deploy a way to survive.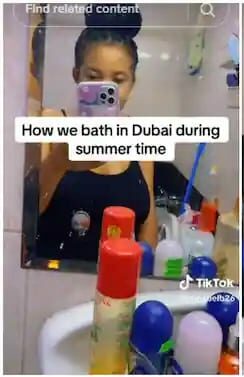 In the video shared online, the Nigerian lady was seen taking a big ice block from a plastic container in a fridge and pouring it into a bucket in the bathroom.
She then filled the bucket containing the ice block with water to the brim and allowed it to melt and then poured it inside the bathtub.