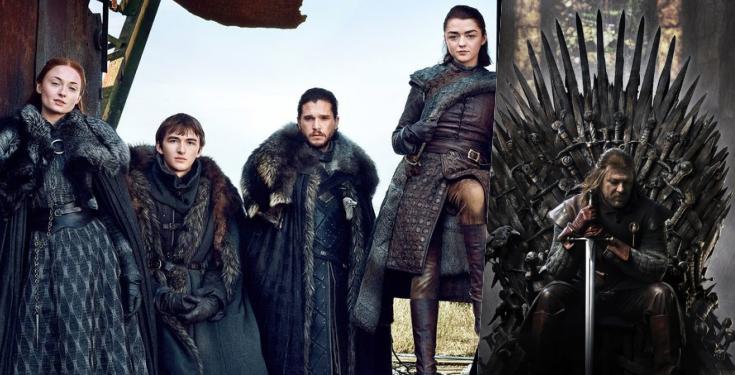 'Game of Thrones' fans were very sad after the season finale aired in May. However, there has been news that a prequel to 'Game of Thrones' is being produced. The author and executive producer George R.R. Martin shared in an interview with Entertainment Weekly that The Starks will be a part of the new prequel.
The prequel is currently being filmed in North Ireland where some of the scenes in Game of Thrones were also filmed. HBO and R.R. Martin have shared that the events of the prequel take place 5,000 years before the time of Game Thrones and leads up to a confrontation with the White Walkers known as The Long Night.
Although the Starks family have been revealed to be part of the Prequel, we are not sure if any of the characters from Game of Thrones will be making an appearance in the series. This is because the prequel is pre-Targaryen and pre-dragons. It is also pre-Lannister, although their family castle, 'Casterly Rocks' will be featured in the film.
Westeros in the prequel will have 100 kingdoms and is therefore expected to be more chaotic than the Westeros from GOT. The Starks are back in the prequel because they descended from the First Men. R.R. Martin confirmed this saying "The Starks will definitely be there". Casterly Rocks that will still be a part of the prequel will host the Casterly family instead of the Lannisters as the Lannisters had not yet risen as at the time of the prequel.
R.R. George talks about them by saying "The Lannisters aren't there yet, but Castlery Rock is certainly there; it's like the Rock of Gibraltar, It's actually occupied by the Casterly's — for whom it's still named after in the time of Game of Thrones." The Lannisters' 'Lann The Clever' swindled the Casterly's of their castle to be in Game of Thrones but it is unsure if this story will be told in the prequel.
Fans can expect to see other creatures even though there will be no dragons. There will be Dire Wolves, Mammoths, and definitely White Walkers. They currently have actresses, Naomi Watts, Naomi Ackie, and Denise Gough as the lead casts. There is still no title for the prequel but they have 2 choices for "The Long Night" or "The Longest Night".
There has been no premiere date set for the film yet, so fans will have to wait. Let us know if you are excited about this prequel in the comment section below.