Sudan: "We were sexually harassed, paid to urinate" – Returnee Nigerian students recount ordeal in Egypt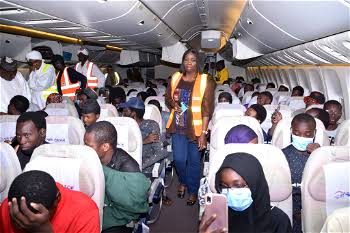 A group of Nigerian students who were airlifted back to Nigeria from Egypt has alleged that some females among them were sexually harassed and that they were so broke that they had to steal from shops to survive.
The students recounted their ordeal to journalists on arrival at the International Airport Abuja.
According to a female student, they faced humiliation and had to sleep in the open.
"We spent all the money we had. We were so hungry and thirsty. They were harassing us sexually. There was no food, no water to drink. It got to a point we picked things from shops and ran away," she said.
Another female student told the BBC Hausa Service in an interview that their legs were swollen due to long hours of stay in the buses.
A male student also revealed that they were forced to pay money before they were allowed to urinate.
The students had been studying in Sudan but were forced to leave due to the ongoing conflict in the country.
They had traveled to Egypt in hopes of returning to Nigeria, but they were stranded at the border for several days before being airlifted back to Nigeria by the Nigerian government.
The returnee students' harrowing experience has drawn widespread condemnation, with many calling for urgent action to be taken to address the situation.
The Nigerian government has yet to respond to the allegations of sexual harassment and other forms of mistreatment faced by the students.