Student meets teacher 15-years after school
A photo of a young man who used to be a student and his teacher from his former school has gone viral causing a stir on social media.
The two photos shared in a photo slide have disclosed that the teacher taught the student as far back as 2008. The teacher was seen standing close to her student in the first picture with her hands wrapped around the student.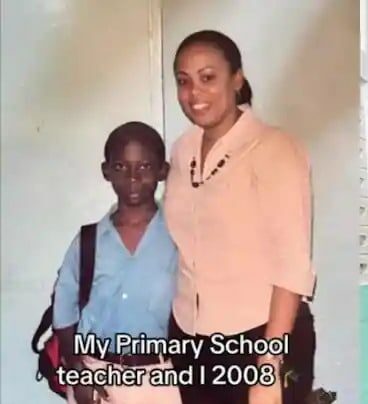 In the new photo which dates from 2023, the student of the teacher was seen all grown and taller than his teacher. Social media users have admired the beauty of the teacher as many say she looks much younger than in her past photo.
@kaywhip reacted: "She actually looks younger now she aged backward."
@Samantha said: "Dang… she looks amazing. even better."
@AnisaSilvers-Seecha wrote: "Glow up… You and miss."
@VonnetteLevonneGordon commented: "Miss has aged gracefully!!"
@judaaihd also commented: "But Mrs looks younger. So cool that you did a teacher appreciation post. Kool Man." 
Watch the video below