Somadina breaks silence on rumored marriage to colleague Chisom Steve
Nigerian actor Somadina Adinma has broken his silence on marriage rumors online that suggest that he got married to his colleague, Chisom Steve.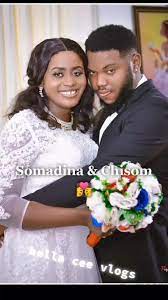 A few days ago, a photo of Somadina and actress Chisom Steve went viral on social media. The two were seen holding each other tight as Chisom was seen wearing a wedding gown and Somadina wearing a suit which looked like they got married.
A lot of fans questioned the actor if he secretly got married to Chisom. One fan took to the Facebook page of Somadina and asked him if he got married to Chisom.
She wrote: "Somadina I thought dey said u are married to Chisom…. Someone should say something Biko nu."
Replying to the comment, Somadina Adinma threw a subtle shade at the lady while tagging her report as fake news.
He wrote: "Make una dey thought, ndi fake news."