Singer Maheeda commends a follower who asked if she's still a born-again christian after sharing racy photos 
Controversial Nigerian singer and nude model Caroline Samuel, popularly known as Maheeda has commended a follower who asked if she's still a born-again Christian.
The singer took to her Instagram page to upload a racy photo of herself in a bikini outfit as she struck a pose for a picture.
Maheeda disclosed that she chooses to show people what they choose to see until she gets tired.
However, a confused fan had thrown her off balance by asking if she's a born-again Christian as alleged.
The nudist had commended the troll by appreciating him for using his brain to think.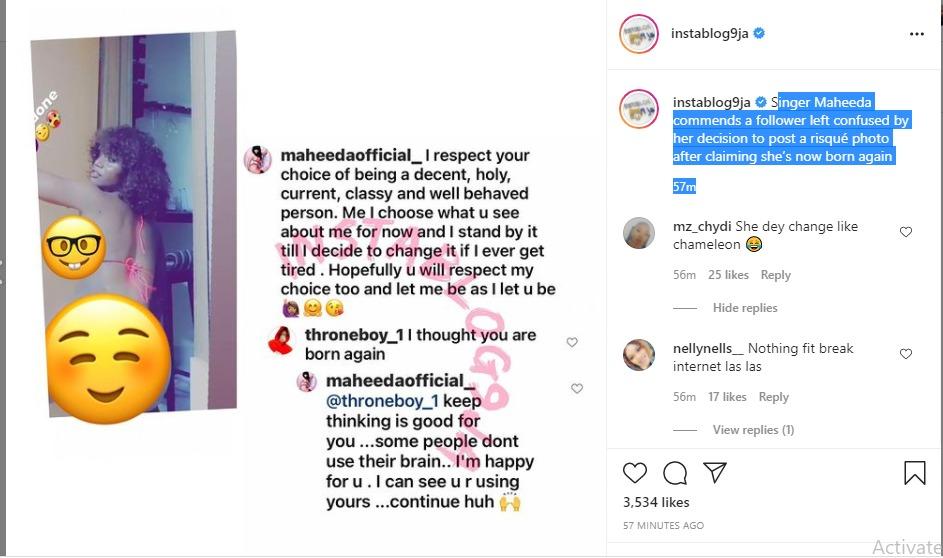 The singer in a chat with Pulse reveals the possibility of her going into gospel music. She revealed that despite being known as the baddest Nigerian nudist, she is not worth emulating and according to her, her love for God can still allow her to make gospel music.
She said, "I might just be in the mood to make gospel music one day. And it's always good to talk about God's love, grace, and mercies in one's life," she said.