Singer, B-Red, acquires ₦120 million house in Lagos
Singer Adebayo Adeleke, better known by his stage name B-Red, has just acquired a N120 million house in Lagos. He shared photos of a bundle of keys on his Instastories while announcing his new acquisition.
See screenhots below;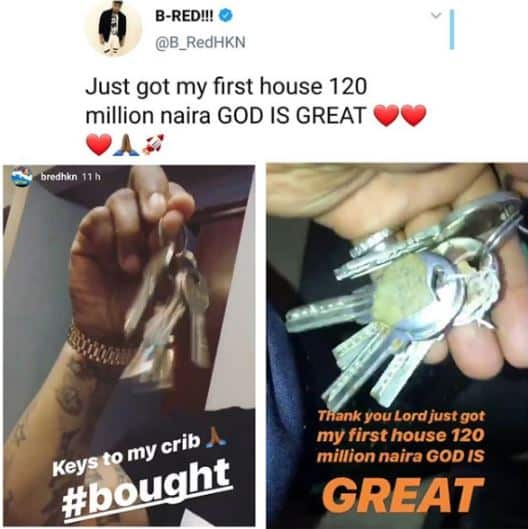 While reacting to the new purchase on social media, some fans berated him for stating the price of the house, which some believe could be have over-hyped just as most celebrities allegedly do.
Some even said the keys he flaunted on social media were not close to a house that would be worth as much as N120 million
"Those Keys Don't Look Anything Close To 120 Million… They Look Like Ma House Keys In Mbaise. ••No Disrespect Intended••"
And some wanted to see the photo of the house and not just the keys:
"Great. Missing though is THE PICTURE OF THE ACTUAL HOUSE. If you must floss , floss completely."
We think this one is throwing a shot at Davido:
"Better than buying flit of Car's and remain a tenant.. But why mention the amount?"
Oga, show us a picture of the house, this one demanded:
"Lol and all you could show, is a bunch of key? How about a picture of the house"
We are not sure B-Red is married though:
"Congratulations Hubby? God bless our new home?? Thank you all for your wishes"