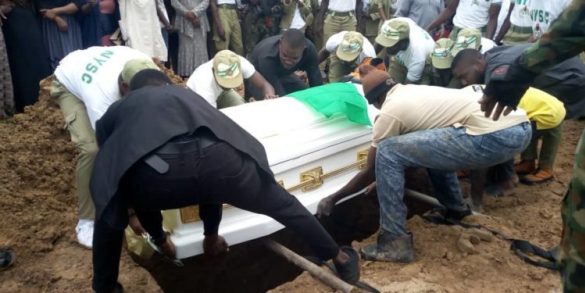 The slain Channels TV reporter, Precious Owolabi has been laid to rest at Wusasa cemetery in Zaria, Kaduna State, on Thursday.
The Oyo-born corper member serving in Abuja was killed during a recent bloody protest by Shiites members.
His remains which were deposited at the Ahmadu Bello University Teaching Hospital, Shika, were conveyed to the cemetery as early as 8:20 a.m. In a white an ambulance with his fellow corps members as well as the officials of the NYSC in attendance, according to a report by Nigerian Tribune.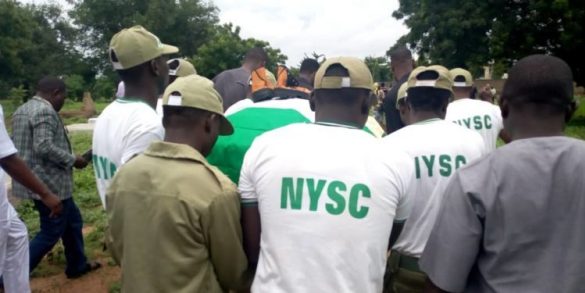 Tears gripped family members as his body lowered into the grave after a funeral service which was followed by a farewell song and final salute conducted by members of the NYSC.
Oyo state speaker, Rtd Hon. Adebo Ogundoyin also mourned with the family of late Owolabi.
"My deepest sympathies, prayers go out to the families of the Oyo-born Channels corper– Precious Owolabi and DCP Usman Umar that were shot dead during the clash between police and Shiite protesters in Abuja," he tweeted on Thursday.
The Speaker urged Nigerian Police and other security agencies to do more in protecting lives.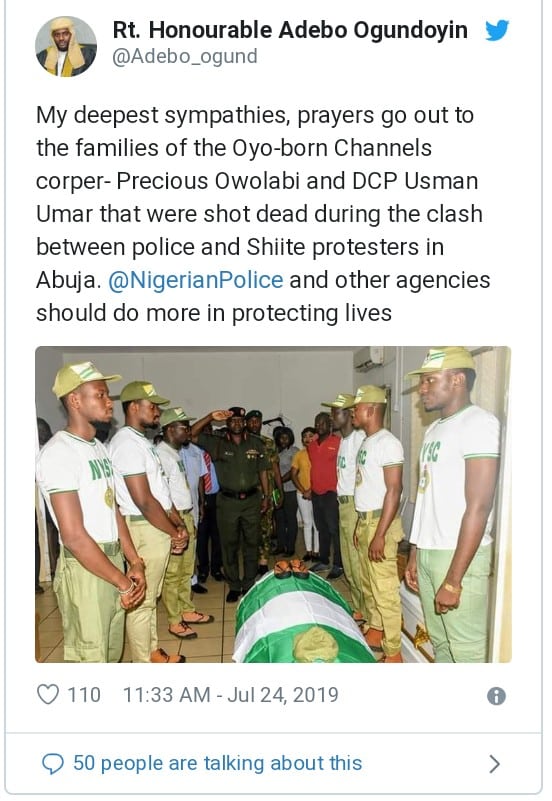 The father of the deceased Mr Ayo Owolabi, a deputy director at the ABUTH, said his son who read theatre arts at the University of Ilorin, was fallen in love with journalism when he met his untimely death.