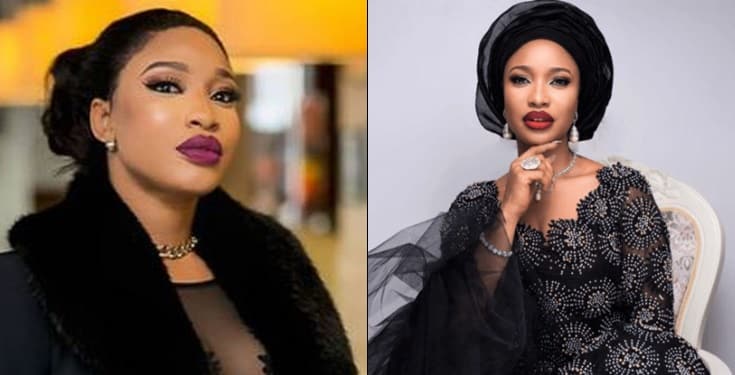 In a recent interview with Elsie Godwin of Plus TV Africa, the actress and single mum of one, Tonto Dikeh, addressed the sad case of how deep the issue of piracy is affecting the Nigerian movie industry.
"it is so deep that the truth is, it is these same producers, directors, marketers that are now the ones pirating their own movies.
There was a time i overheard a conversation between producers saying instead of 'me losing out, let me go and pirate my movies myself so i can cash out myself if i don't make enough from the original copies'.
See, the pirates on the streets, we sell the access to them from the inside, so if we are fighting corruption, we need to fight it from the inside first. If we can stop this from inside, the ones outside too will stop. The ones doing it to themselves need to stop, you can't be fighting what you are instigating"
Speaking further, she said "Nollywood is in a good place but it can be in a better place if it has sponsors, more commitment, more cash, more commitment, more support."
On her sudden disappearance from the movie industry, she said ""I haven't retired, the truth is I have played every role there is. There isn't much challenge anymore.
I have about just two or three movies that make go wow, I want to be in this. There is no action, no adrenaline rush when watching Nollywood movies, it is just the same pictures, stories, scenes, environment, we don't have location"
She further said "Different things actually come into place on why I haven't been on the screen today, I haven't found the perfect script that I want to act in"
"i want to watch a movie i star in and hear my voice and not know it is my voice..we need to train ourselves and be more and i think I am one of the few people that have attained that more…." she stated.
When asked why she isn't producing her own movies to prove that she is indeed not in the league of the modern Nollywood producers, Tonto Dikeh said "Producing is not something i love, it is not for everybody, i am more good in acting but producing is not my thing but Geneveive Nnaji has made me understand that now with Lion heart. "