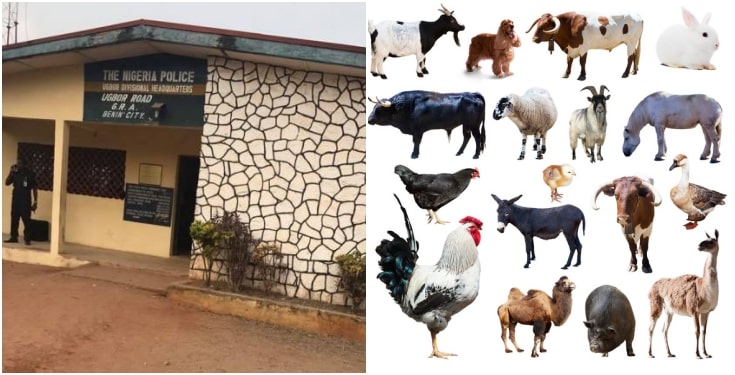 The arrest and detention of a Chief priest in Edo, The Chief Priest of Okhuaihe shrine, Osarodion Usuanlele, the Ohen N' Ukoni Neyedo, at the Edo Police headquarters in Benin City, has caused mayhem in the ancient city.
In a report by The Nation, with the priest's detention, an age-long tradition which says the Ohen N' Ukoni does not enter Benin, the abode of the Oba, had been desecrated.
Consequently, three dogs were slaughtered as sacrifices were carried out near the police headquarters before the chief priest was released.
Additionally, a list of other items has been given to the police for cleansing sacrifice the land.
The items include 14 native cows, tortoise, sheep, goats, cocks, among others.
It was also gathered that the tradition was started in the 15th century by Oba Ewuare the great.
The chief priest's shrine is located at Evbiekoi, in Uhunwode Local Government Area, and as part of coronation rites, he would have a symbolic wrestle with the Crown Prince. Both of them would go opposite ways, never to see each other again, once the Crown Prince becomes the Oba.
Trouble started last week when operatives of the anti-cultism unit stormed Evbiekoi community following on a petition by John Elvis (aka Atekha), an ex-official of the banned Community Development Association (CDA), The Nation reports.
Briefing reporters on the incident, Secretary of Evbiekoi community, Chief Paul Ajayi said: "The policemen shot sporadically and insisted on taking Chief Priest Usunalele to Benin City, despite pleas that the man does not enter Benin or he would die.
"A strange and mysterious downpour, accompanied by violent wind, thunder and lightning, were part of the signs of desecration.
"The Oba got the signs of desecration and presence of Ohen N' UKoni, and sent emissaries to the Police Commissioner, Danmallam Abubakar, after confirming that the Chief Priest was in Benin."
Meanwhile, the Police Commissioner, Dan has ordered policemen involved in the arrest of Ohen N'Ukoni to be detained to allay rising tensions in Benin as various youth groups are reportedly preparing to cause mayhem over the alleged desecration of the Benin culture