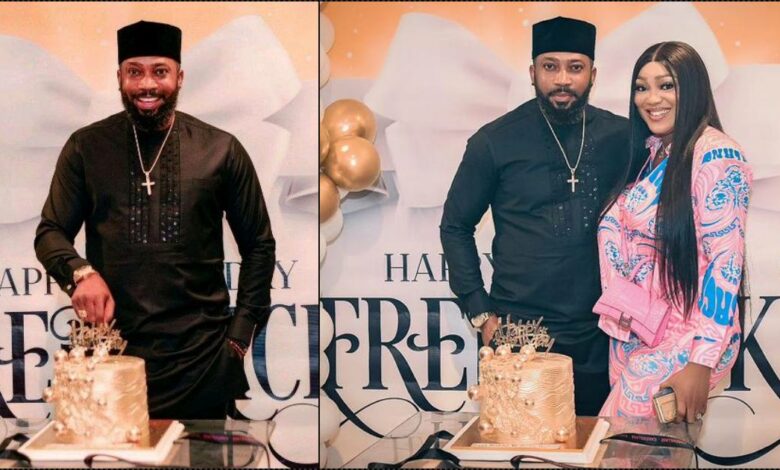 Peggy Ovire in tears as husband, Frederick Leonard makes special vow to her following surprise birthday treat
Famous Nollywood actor, Frederick Leonard makes a special vow to his wife, Peggy Ovire alongside a message of appreciation following a surprise birthday treat she arranged for him.
The actor, who turned a year older a week ago recounts being surprised with a birthday party by his wife, Peggy Ovire, despite being away from home for months filming.
Frederick Leonard expressed his gratitude and admiration for her, stating that her kind gesture left him stunned.
He went on to state that Peggy flew for 48 hours to be with him on his filming site, along with some of their colleagues, just to make him happy. The actor promised to never take her for granted and reaffirmed his love and appreciation for her.
"I left Home Months Ago for work, Thought I could make it Back home in Good Time for my Birthday, but as Months Became weeks and weeks into days leading up to my Birthday, it Became clear that work Schedule would not allow for the Flight Back to Lagos, Wify Said.. I gat you.. The Lord is Blessing You, Focus on Work.
Longstory Short, Peggy Flew all the way, 48hrs to My Birthday and Pulled Off a Beautiful Suprise Birthday Dinner in a Town where she knows Almost No One. Such Suprise. Such Sacrifice..
Babe, I want You to know That I see You, I See The Sacrifice, I see The Effort. Your Love, I WILL NEVER TAKE FOR GRANTED. Thank You for Making My Birthday a Beautiful Experience, Even Away from Home.
I LOVE YOU MY FOREVER ❤️ @peggyovire."
In response, Peggy Ovire appreciated her husband with an emotional outburst. In her words;
"Awwwww I'm in tears. You deserve more baby & I'm so proud of you. Thank you for taking good care of me. God Will Never Stop Blessing you baby. I LOVE YOU 😘😘"
Watch the video below …