Entertainment News
Onye Eze's girlfriend begs for prayers for Okoro Blessing over claims of being set up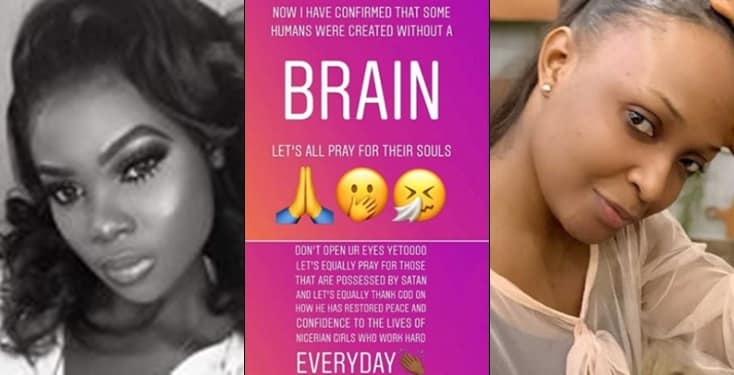 Onye Eze's girlfriend Laireana, has begged for prayers for Okoro Blessing, as she reacted to her new claims of being set up.
Earlier the blogger said she was not arrested nor humiliated by police officers, but by Onye Eze and his boys who threatened to kill her.
She further revealed that the security operatives the China based businessman brought, claimed they were from the Inspector General of Police and they also threatened to shoot her.
Okoro Blessing who disclosed that she was set up by Onye Eze, further revealed that she was forced to sign an undertaken and threatened with publishing the video confession she made unless she brings N500K. She further revealed that she wants the world to know what happened before taking her life.
However Onye Eze's girlfriend who reacted to claims of being set up by Okoro Blessing, stated that she has now confirmed that some people were created without brains. She also insinuated that Okoro Blessing is possessed by demons, even though God has restored confidence in the lives of Nigerians girls who work hard.
She wrote;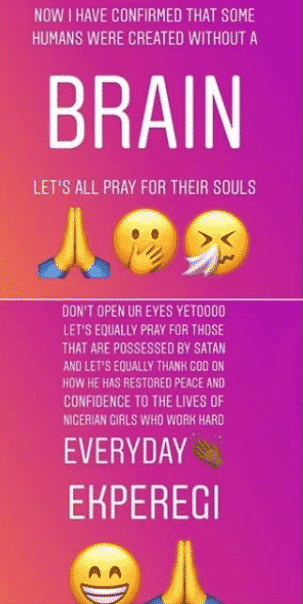 Recall that she had earlier begged Nigerians to forgive the blogger as she only lied but didn't kill anyone.