Nigerians have made 5 new demands while continuing #EndSARS protests despite dissolution of SARS by the Inspector General of Police yesterday.
Following the dissolution of the SARS unit of the Nigeria Police Force, Nigerians have launched a new trend #SARSMUSTEND which is now gaining momentum on Twitter.
This is coming after Nigerians insisted that the dissolution of SARS must be effective and not like what Nigerians have been promised over the years.
Seuel to this, protesters in various states, with their placards, have continued to hit the streets to ensure there's a total end to police brutality and unlawful killings.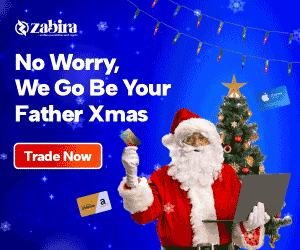 In Lagos state, today, October 12th, protester blocked the Lekki Toll Gate Section of the Lekki-Epe Expressway, and students of Lagos State university have joined the campaign as they protest around LASU-Igando environs.
Similarly a peaceful protest is ongoing at the Kwara State Government House G. R. A. Ilorin, and in several other states.
Nigerians have now come up with five new demands which they are calling on the federal government to consider.
The demands include;
1. Immediate release of all arrested protesters
2. Justice for all deceased victims of police brutality and appropriate compensation for their families
3. Setting up and independent body to oversee the investigation and prosecution of all reports of police misconduct (within 10 days)
4. In line with the new police act, psychological evaluation and retraining (to be confirmed by an independent body) of all disbanded SARS before they can redeployed
5. Increase police salary so that they are adequately compensated for protecting lives and property of citizens.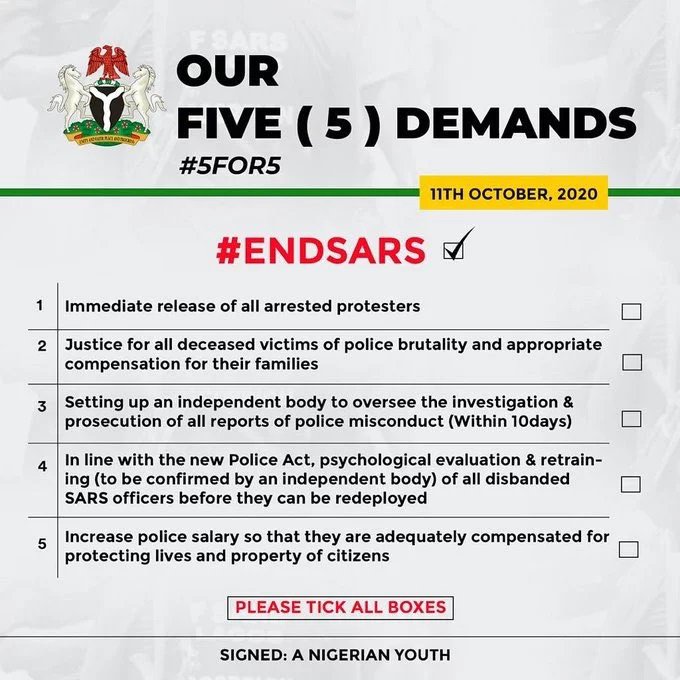 Watch video clips from ongoing #SARSMUSTEND protests across Nigeria today;
Airport road #EndSARS protest activated. Road blocked. We are not playing. #SARSMUSTEND #EndPoliceBrutality pic.twitter.com/diW8LuFU1o

— Bankole Akintunde Adebayo (@AdeBanqie) October 12, 2020
Went out to share drinks to the protesters. People are angry and the energy was insane! They were running on Apapa road chanting with one voice "SARS MUST GO!!!" #SARSMUSTEND Oyingbo/Costain Protesters! Patoranking showed up too! pic.twitter.com/LFXSrZd05f

— Oladoyin Hamdallah Odukoya (@MTryla) October 12, 2020
Police don block us, we Don block road
Calabar people no greeee!!!#SARSMUSTEND ✊🏼✊🏼 pic.twitter.com/8Y6nlAahWj

— Turquoise lover💙🌸 (@__Bunu) October 12, 2020
Update! Reporting great people of ilorin #SarsMustGo #SARSMUSTEND pic.twitter.com/1we1pT4ffv

— FoRzA SpEciALe🦅 (@90cAyo) October 12, 2020