Nigerian lady causes a stir by sharing throwback photo from police secondary school days to becoming a police officer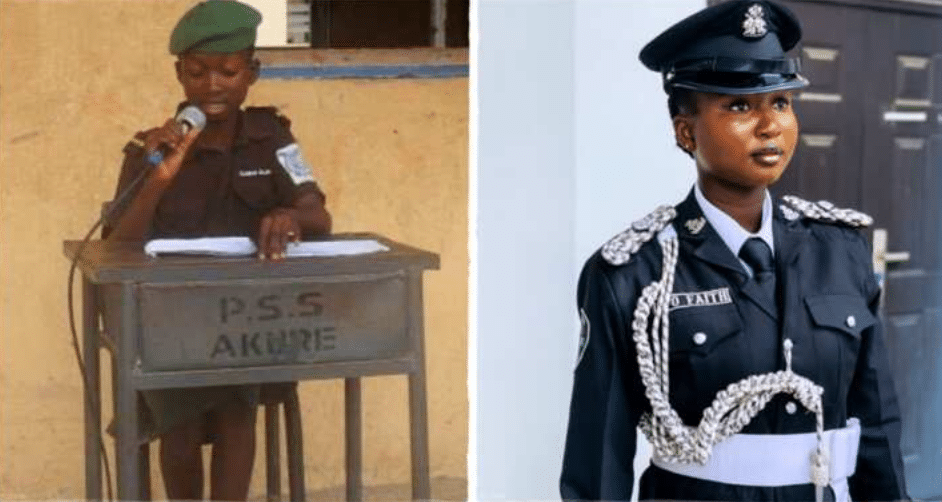 A Nigerian lady identified as Olubunmi Faith has captured the attention and admiration of netizens by sharing her inspiring journey from being a student at a police secondary school to becoming a full-fledged police officer.
The journey of Olubunmi Faith, which began years ago during her time at a police secondary school, came into the spotlight recently when she responded to a tweet encouraging people to showcase their personal growth.
Olubunmi's tweet, accompanied by a throwback photo, showed her as a young student sitting behind a table with a chair, apparently addressing an unseen audience in 2012.
Initially, many believed the photo was taken during a "career day" event at her school, where students often dress up as professionals they aspire to become.
However, Olubunmi clarified that the picture was not from a career day event, but rather from her time as a student at a police secondary school.
Her revelation surprised and inspired countless individuals who were touched by her transformation.
Olubunmi's follow-up photo, taken in 2023, depicts her in a completely different light.
This time, she stands proudly in her police officer uniform, embodying the career she once dreamed of.
She wrote;
"I didn't dress as a police officer for career day; I attended Police secondary school."
Her perseverance and dedication to achieving her goals have earned her immense respect and praise, with social media users flooding the comment section with congratulatory messages and words of encouragement.
Netizens Reactions…
@uduaipigime said; "The real definition of growth. The Evidence is massive. Congratulations dear."
@Cimple_Life001 said; "I remembered when I entered this school 2012. Na only first term I use the school rugged." 
@ChiefAgapa commented;  "I also went to PSSA and I must say, I'm super proud of you! Congrats."
@AdeyeriSamuel1 said; "Congratulations! Please be good ambassadors of the Nigeria police force. May you succeed in your career."
See below;