Nigerian family over the moon as they all obtain UK visas, flaunt their international passports, pack their bags for relocation (Video)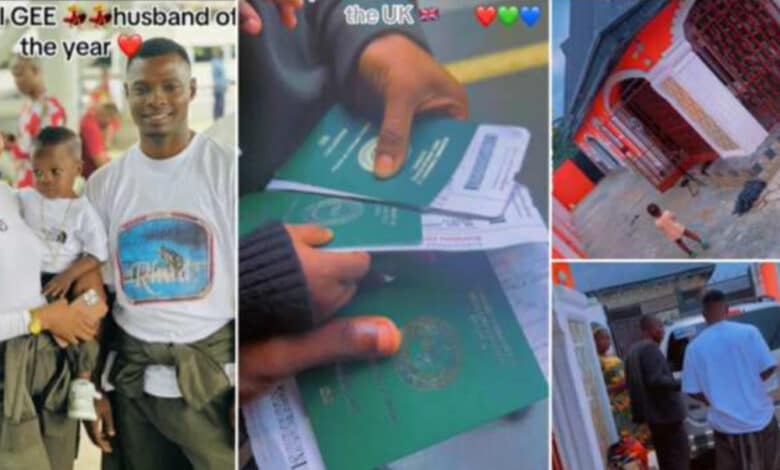 A Nigerian family bid farewell to their extended family at the airport as they embarked on a life-changing journey to the UK after they all obtained visas at the same time.
The family, comprising a husband, wife, and their child, showcased their international passports three days before their departure, marking the beginning of their new chapter abroad.
@olajumoke806 shared their journey with her followers, giving a glimpse into the emotional rollercoaster that comes with leaving one's homeland behind.
Before leaving their homeland, the family captured a photo of their well-painted house as a keepsake, knowing that they might not see it again for an extended period.
They shared their heartfelt emotions with friends and family, expressing the uncertainty of when they would return to Nigeria.
The departure day was marked by a touching scene at the airport as their extended family came to bid them farewell.
In the viral video, the family could be seen meticulously reducing their luggage, a common practice among travelers to avoid excessive baggage charge.
Netizens Reactions…
@faithtessy said; "Congratulations."
@Chinenye said; "I claim dis testimony for me and my husband and children even my siblings and mom."
@user9660917743671 said; "Congratulations I claim this type of grace for me my husband and my children."
@Wicked Person said; "Congratulations I'm next in line."
@ayo said: "I claim this im Jesus name. me and my family by this time next year."
@Fatimo said; "Congrats, i claim this with hubby and my kids."
@Alakeakewi said; "Congratulations I received this blessings too in Jesus Name."
@RealJummy️ said: "Congratulations, will use this sound soon in Jesus name ."
@HOMOHKASH said: "Congratulations dear, my soon."
@Pamilerin Abinleko said; "I tap from this blessing for me and my so."
@iamladyhaq asked; "Congratulations sis, pls how much did you pay for the extra luggage and which of the airlines pls?"
@olajumoke806 replied: "I used quatar and extra luggage is 178K for 23kg but I dnt pay up to that." 
See below;