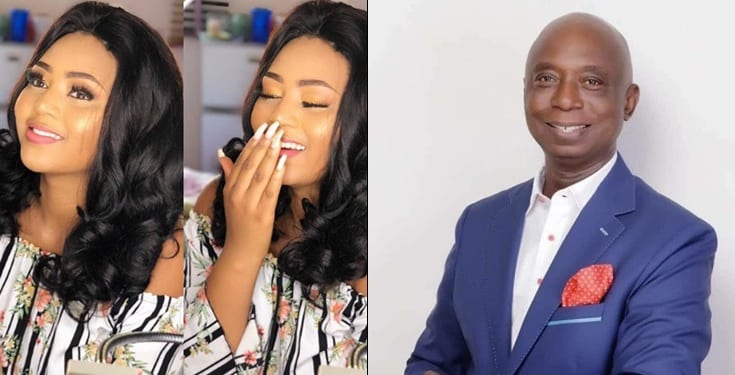 Nigerian billionaire politician, Ned Nwoko, has finally spoken on his reported secret marriage to Nollywood actress, Regina Daniels
The Capital reported that couple had an introduction ceremony last weekend in Asaba, the Delta State capital where Regina Daniels family home is.
Hon. Ned Nwoko, a former member of the House of Representatives, is 59 while Regina Daniels is reportedly 18 years old, and is said to be his 6th wife.
According to a report by Kemiashefonlovehaven, Ned Nwoko, has now spoken about the marriage.
When contacted by Kemiashefonlovehaven on why he decided marrying Regina after four marriages, the billionaire politician, who spoke through his media handlers refused any comment but said he is first, a Moslem, who can marry as many wives as he wills.
"Allamdulilai, Hon. Ned Nwoko is of royal blood and he is entitled to as many wives as he desires. He is no kid and knows what is best for him. Don't forget that he is a devout Moslem and he is entitled to more than a wife. He would not want to comment on Regina Daniels currently,"one of his aides said.
Recall that Ned Nwoko married one Miss Nwakaego Ukachukwu, his Special Adviser on Legal Matters and also gifted her a N20 million BMW car as well as a posh mansion in a high-brow area in Abuja.
Married to five wives, Nwoko has been the one splashing cash and spoiling Regina Daniels silly with expensive gifts. He bought her the expensive cars including a house in GRA Asaba which the actress brandished on social media some weeks ago as a gift to her mother, Rita Daniels.
When asked if Ned Nwoko could be accused of cradle-snatching, sources close to him hinted that Nwoko didn't touch her until she was of age.
"He didn't touch her when she was younger and must have decided to be very intimate with her when she clocked 18 in October of 2018. Hence the delayed marriage to make her more mature. You can't accuse Hon. Nwoko of cradle-snatching when some northern big shots married 13-year-olds. The main thing is that the couple love each other," he said.
Kemiashefonlovehaven also gathered that Mr. Nwoko sometimes flies the actress to Abuja on his private jet to one of his cozy homes where he also enjoys quiet times with her.
It was revealed that the wedding ceremony, which held last weekend was a private affair as the few family members invited were instructed not to take photographs. There wasn't much glitz as many would have wanted and everybody complied with the wish of the couple to have a discreet ceremony.
More so, there was not much to make noise about given that it is Nwoko's sixth marriage among numerous dalliances with older actresses.
Regina came into limelight as a seven-year-old, featuring in a slew of Nollywood movies.
Her mother, Rita Daniels, is also an actress. Currently, a Mass Communication student of the Igbinedion University, Benin, she became a social media sensation recently when she started flaunting luxury on her Instagram page. From flying private jets to different parts of the world to flaunting luxury cars, she became the kind of newsmaker acting never afforded her.