"Na NEPA-A-Thon?" – Residents panic over number of PHCN officials working on electricity pole at once (Video)
Reactions trail video of residents of a community panicking over the number of PHCN officials who were working on various poles in their street.
The residents were left confused when various individuals from the power company mounted several pole wires in their street, at the same time, and began working on them.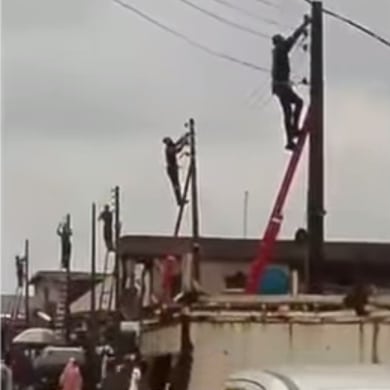 In the video which surfaced online, about six NEPA officials were seen on different poles working at the same time.
Watch the video below;
Netizens took to the comment section to react:
evelyn__xx wrote: "Nepa-thon. Highest number of people cutting light at once"
som_tea wrote: "Na NEPA-A-THON be this one GWR would be proud."
de_prime001 wrote: "They Hang there like super zombies for game"
walebwe1 wrote: "Nigerians are not ready for 24-hour electricity. Darkness has become part of many Nigerians. It's going to take a while b4 people get used to 24-hour electricity"