"My Chinese wife has become Omo Yoruba" – Man brags as Chinese wife shuts down their wedding with traditional dance moves (Video)
A proud Nigerian man has shared a video of his Chinese wife rocking a Yoruba traditional attire and dancing traditionally at their wedding.
While sharing the video, he expressed his delight about his wife's transformation into a "fully fledged Yoruba woman".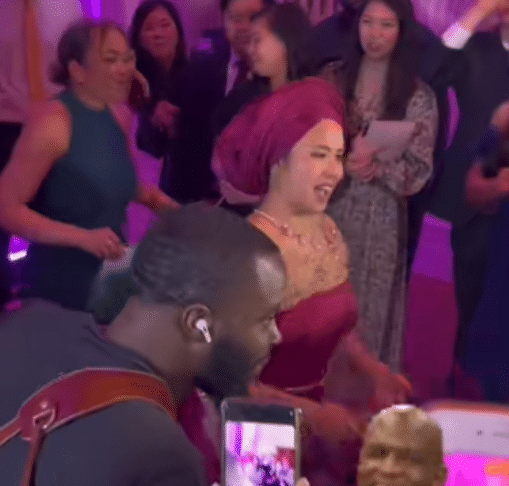 The clip showed the woman dancing beautifully as she stormed the wedding venue with other asoebi girls.
He captioned the video:
"POV: your Chinese wife becomes a fully-fledged OMO YORUBA."
Reacting to the video, @derek_ remarked: "Bye I thought she was just a light skin Yoruba at first glance."
@Pur.pura stated: "There's nothing more I love than seeing two different cultures merged together! 🥰🥰"
@Oludamilola Tiwo wrote: "The looks so beautiful in outfit 😭the gele too."
@Jessica questioned: "Am I the only one who feels like a proud mom watching this ? 🥹"
@DESS LAN commented: "I wasn't expecting the spin 😂. But they're lit."
@Shärön🦧 said: "Beautiful wedding I didn't even know she was not Yoruba until she came close."
@AB Mope wrote: "This is no nice and lovely. I can imagine efforts made towards this. 👏 💐 kudos."
@Mr Akanbi Sewo Sewo said: "The culture we are gradually dropping…they are embracing it.🥰🥰🥰🥰 I wear my agbada and wear jacket ontop during winter 🤣🤣."
Watch the video below: