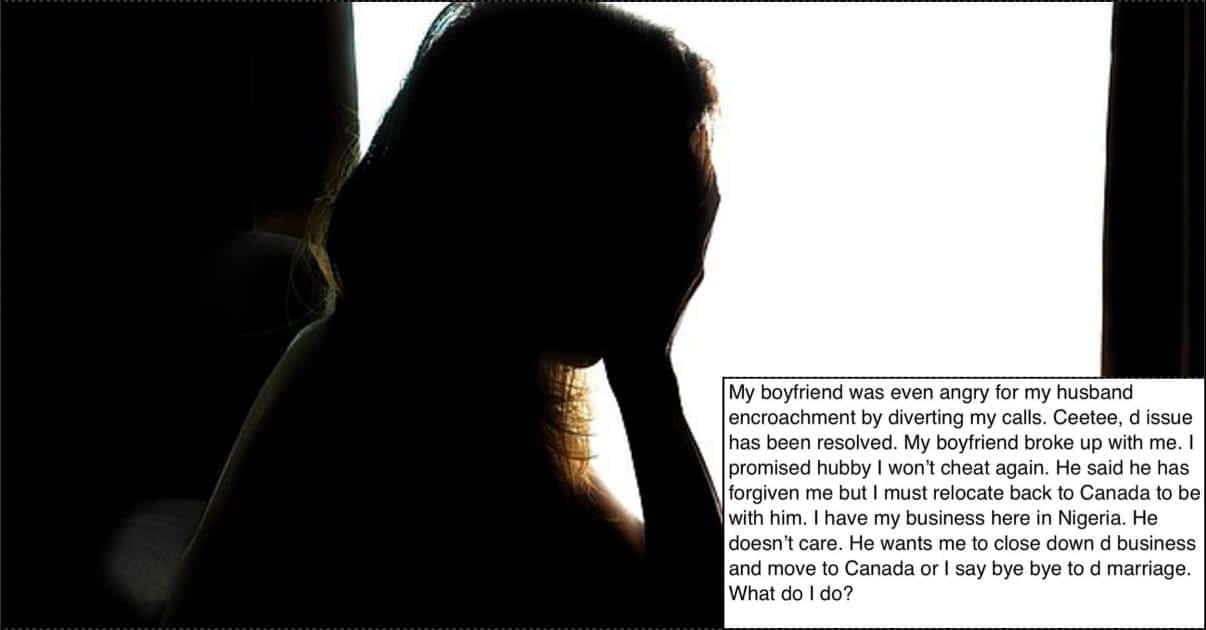 A cheating mother of four cries out for advice following a clash between her husband and boyfriend over the phone.
The Canada-based woman was having an affair outside her marriage with a Nigerian with whom she meets whenever she was on a business trip in the country.
In a chat with a relationship adviser, the woman in question sought advice after being asked by her husband to choose between her business in Nigeria or her marriage.
Read the full narration below …
"I cheated on my husband and he gave me an ultimatum to choose between my marriage and my career
Good afternoon nurse chioma and house. I'm a married woman with 4children. My husband and our children are based in Canada. I only visit once in a while cos I have my business here in Nigeria.
I have a boyfriend here in Nigeria and I've been with him for 6 months. My husband and I did our phones in such a way that when u call one and we didn't pick up the phone, it will divert to the other.
I have a send phone I use in communicating with my lover. My husband doesn't know about d sim. My lover knows about my husband but I told him we are separated so that he will feel safe with me.
I don't know how he got my main line. He called my number he was with and it wasn't going through. He called my main line, I didn't pick but hubby picked up. The encounter wasn't a pleasant one.
My boyfriend was even angry for my husband encroachment by diverting my calls. Ceetee, d issue has been resolved. My boyfriend broke up with me. I promised hubby I won't cheat again.
He said he has forgiven me but I must relocate back to Canada to be with him. I have my business here in Nigeria. He doesn't care. He wants me to close down d business and move to Canada or I say bye bye to d marriage. What do I do?"