Mohbad: Throwback video of the singer beaming with joy as fan draws his portrait, presents it after framing surfaces
A throwback video of a fan, Adekoya Gbenga, known as @gbenga_pencil, presenting a portrait to the late Nigerian singer, Mohbad has surfaced.
The emotional encounter left Mohbad visibly moved and elated as he received the thoughtful gift from his devoted fan.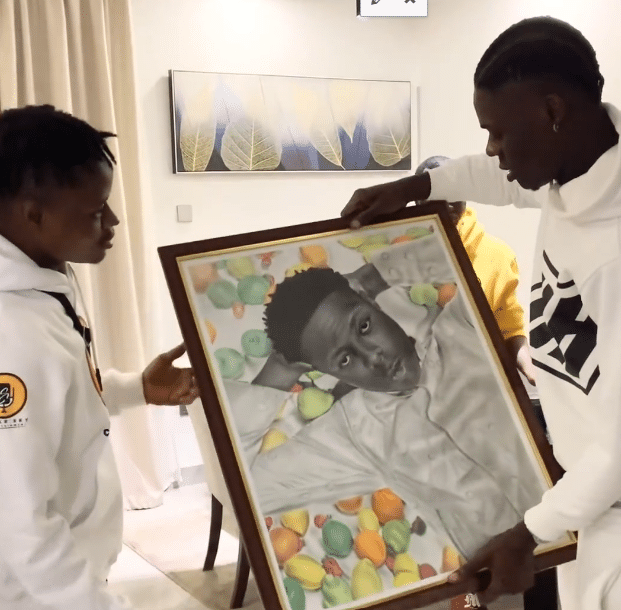 The video captured the singer's genuine delight as he was handed a beautifully framed portrait of himself.
The fan's artistic prowess was on full display in the meticulously crafted artwork, capturing late Mohbad's likeness with detail and precision.
As the two artists shared this special moment, they seized the opportunity to capture their joy with photos.
Although the video appears to be from a previous encounter, many Nigerians have expressed their appreciation for the thoughtful gesture.
The heartwarming throwback video resonated with fans and followers of both artists.
Netizens Reactions…
@perfect_cathy said; "At least you gave him his flowers while he was still alive and could smell them. God bless you."
@beautifulajiboye said: "Little did he know this portrait will be amongst many pictures for RIP. Rest well Champion but not until justice is served accordingly."
@mhiz_monae_ said: "See that guy on pink cap so jealous this guy had a lot of frenemies."
@jemimajameson said: "Why was he surrounded by so many evil eyes. Omo he was a star already but was still living in and appearing in spaces that were too small for him. This was supposed to be a phase."
@adorable_vivia said; "Mohbad is just a gentle guy. He doesn't like trouble."
@alaka_mary said: "I can't believe he's dead someone should pls wake me up and say it's all dream."
@temmie_chris said: "Thanks for putting a smile on his face."
See below;