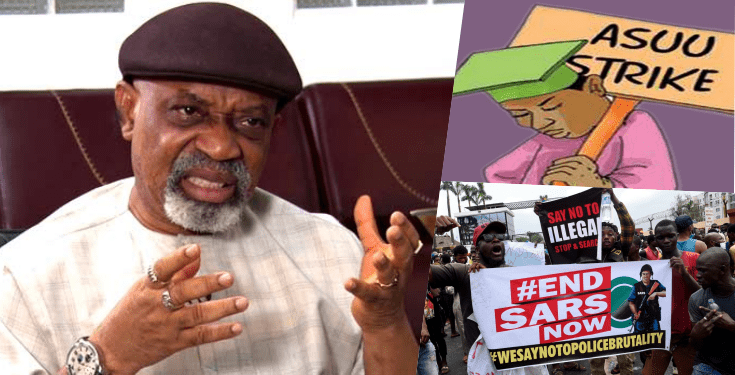 Viral News
Minister Of Labour, Chris Ngige Says ASUU Strike Is Boosting #EndSARS Protest
Minister of Labour and Employment, Chris Ngige said the ongoing Academic Staff Union of Universities (ASUU) strike is fueling the #EndSARS protest.
He said this in a re-conciliatory meeting with the representative of ASUU and the government.
The minister further states that the prolonged strike is the cause, leading to the recruitment of many students into the #EndSARS #EndStrike #EndSWAT protest.
Read his comment below;
"For the past week, we have all been on our toes, we have been meeting and we pray that this meeting will yield some good fruits. We don't take very great pleasure, to the fact that the children who are supposed to be in school are being recruited into the #EndSARS, #EndStrike, #EndSWAT and all the kind of situations.
As much as possible, we will try to see how we can meet ourselves halfway so that we can resolve this crisis to the benefits of all and the country at large."
It's no longer news that Nigerian youths all over the nation are calling for the reform of the Nigeria Police.
The federal government has risen to the occasion and granted some of the requests of the Nigerian youths with some still in view.