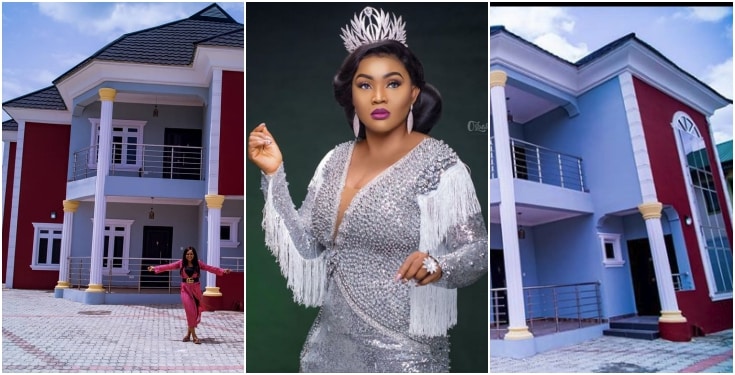 Nollywood actress, Mercy Aigbe has been called out with claims that she allegedly rented the mansion she said she bought.
Sometime last year, Mercy Aigbe showed off a mansion she bought in Magodo area of Lagos state which is said to be worth over 100 million Naira.
A social media user came out to debunk the news, saying she rented it and did not buy it.
The Instagram user, identified as CutieJuls, took to her page where she posted pictures of the actress' home with caption; Ewooo, amebo says Aunty no buy house but she con be tenant wey she don dey tell internet people that she be landlord.

Amebo follow talk sey na N10mil wey Aunty con pay for house wey she come Internet dey use fake account mention huge amount on your top she con dey pose dey intimidate women actresses wey dem no buy house. The one wey shock me be sey, dem dey talk sey politician wey buy house stop to dey hammer Aunty cos his wife somehow take know sey Aunty nollywood be Oga's sidechic. Let me pause here, I will be back. My food is burning. .

But before I proceed to the kitchen o, biko who is going to 14, oregunwa street oregun lagos? I think I left my purse in the hotel room. If they refuse to hand it in, kindly tell them they should hand it in before , who is the owner who was connected to Aunty before o, will come scatter my head with some kian grammar ?‍♀️
In reaction, Mercy Aigbe commented,

A user went on to ask the actress to stop lying because the house was under lease. He went on to say if truly she bought the house as claimed, she bought a haunted house.
Another user urged Mercy Aigbe to show proof of ownership and certificates of occupancy to prove that the allegations are false but Mercy has said she would not do such as people would still claim the documents are forged if she does.