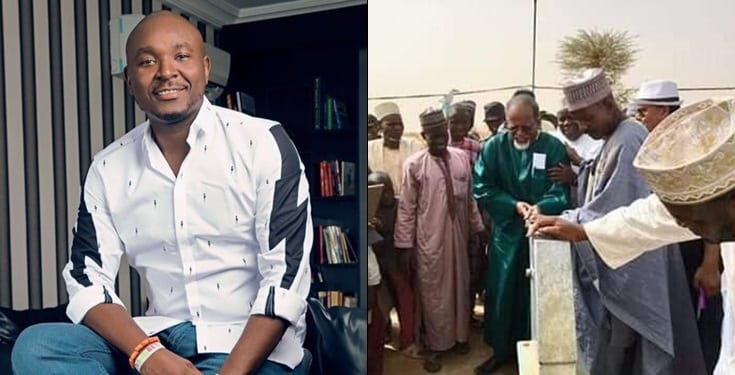 Social media was recent abuzz with the news of a gateman who exhibited an unusual act of selflessness by rejecting a house gift from his boss, and instead requesting for a borehole to be built in his community.
Nigerian man identified as Musa Usman, was planning to resign from his job and spend time with his family, after 25 years of service to his Indian boss. In appreciation of Usman, the boss, Mr Verghese, decided to build a house for him, to which he (Usman) rejected and requested for a community borehole in his village, because his people had to occasionally make long distance trips in search of clean water.
After the news broke on social media, members of the online community reacted with mixed reactions. Among those that expressed reservation against the gateman's decision is House of Rep elect for Egbeda/Ona Ara federal constituency, Ibadan, Oloye Akin Alabi.
Alabi expressed that even though Usman's decision was truly selfless; it was not a wise one. According to him, he would have been able to do the greater good if he collected the house, sell it off and install multiple boreholes in the community. He said: "Selfless decision but not very wise. Collect the house, sell it and sink multiple boreholes." See his tweet below:
Selfless decision but not very wise. Collect the house, sell it and sink multiple boreholes. https://t.co/Y3u2yGx39A

— Oloye Akin Alabi (@akinalabi) April 25, 2019