A Nigerian man took to social to reveal that he blocked his friends plan to travel to Zambia for supporting Muhammadu Buhari in the last presidential election.
The man stated that he sent a email to the Zambia Interior Minister and notified him of a potential terrorist's visit to their country, while giving him the details of his friend.'
His friend who is not aware of his plan, travelled to Zambia but was deported immediately after landing in the country.
See the first post he made while reacting to a discussion of Nigerians leaving the country in search for greener pastures:
"You can say that again. Surprisingly a close friend who always block my ear with how much @MBuhari is the best thing that had happen to Nigeria since 17th Century wish to relocate to Zambia but I emailed Zambia interior Minister with his full detail as a terrorist. He is on."
He later shared the chat then he had with his friend after he was deported:
So my friend thought that I was joking and he attempted to run away from Nigeria to Zambia but guess what ?
I don't use eyes drops in my ears. You can't claim next level and want to run away. I am meeting him at the weekend of buy him beer.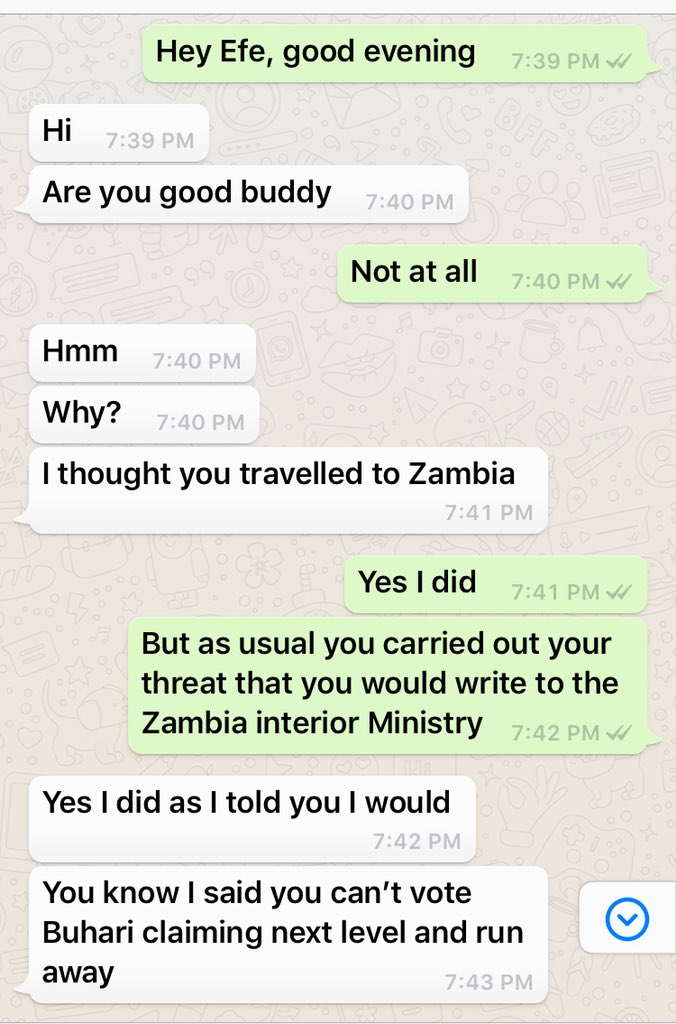 ?????

So my friend thought that I was joking and he attempted to run away from Nigeria to Zambia but guess what ???????I don't use eyes drops in my ears.

You can't claim next level and want to run away. I am meeting him at the weekend of buy him beer.

??‍♂️??‍♂️ pic.twitter.com/iB9zxsSnWE

— #Revolutionary Efe Koloko (@EfeKoloko) April 29, 2019