Lady identified by her Twitter handle as @Didicodes takes to social media to flaunt loads of gifts she received from her man as she marked her 23rd birthday on Wednesday, 6th October 2021.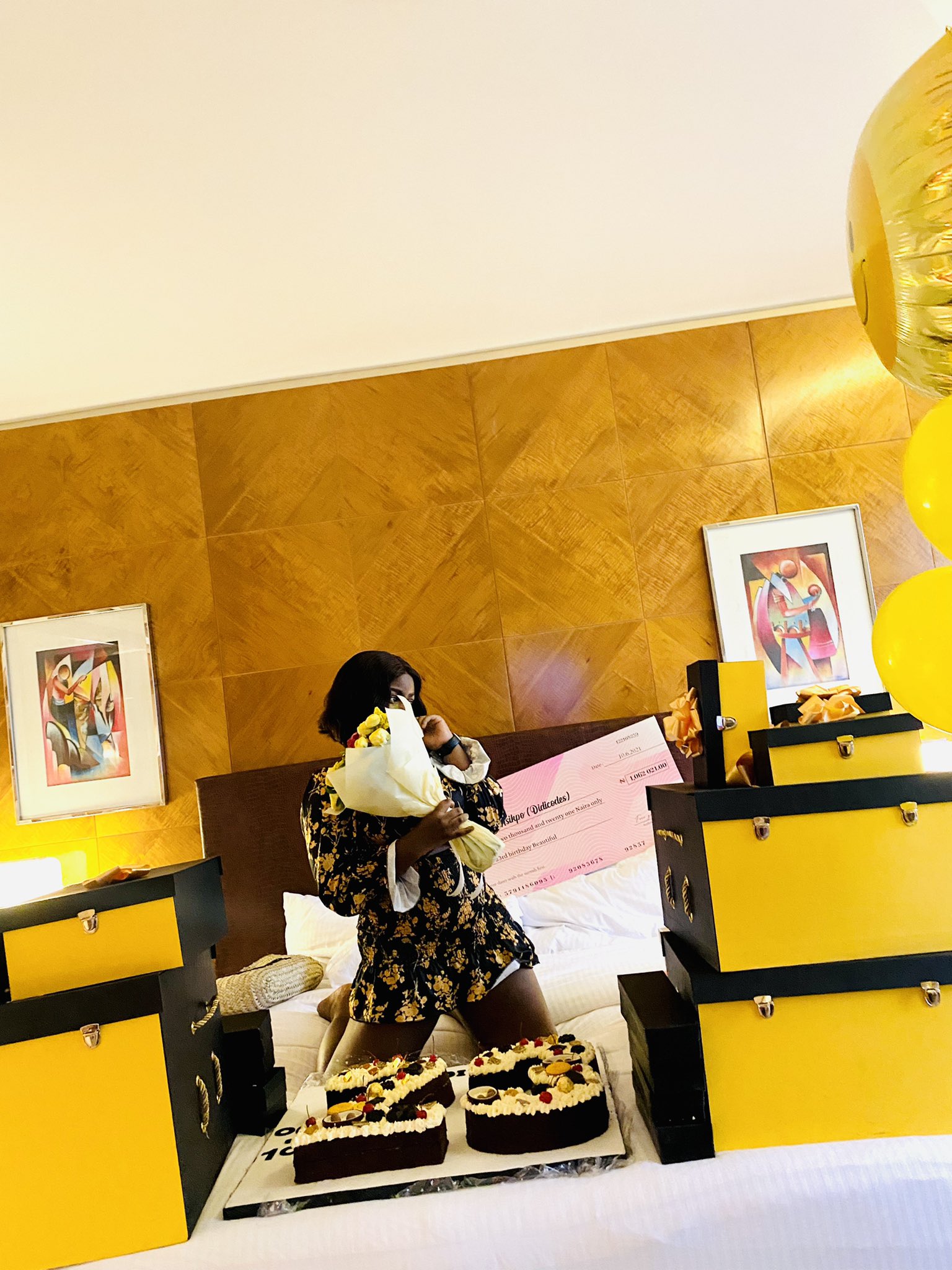 According to her, this man of hers always put up different stunts to celebrate her on her birthday and as usual, he didn't fail to give her more than a birthday bash; gifting her 10 boxes with different gifts packaged inside.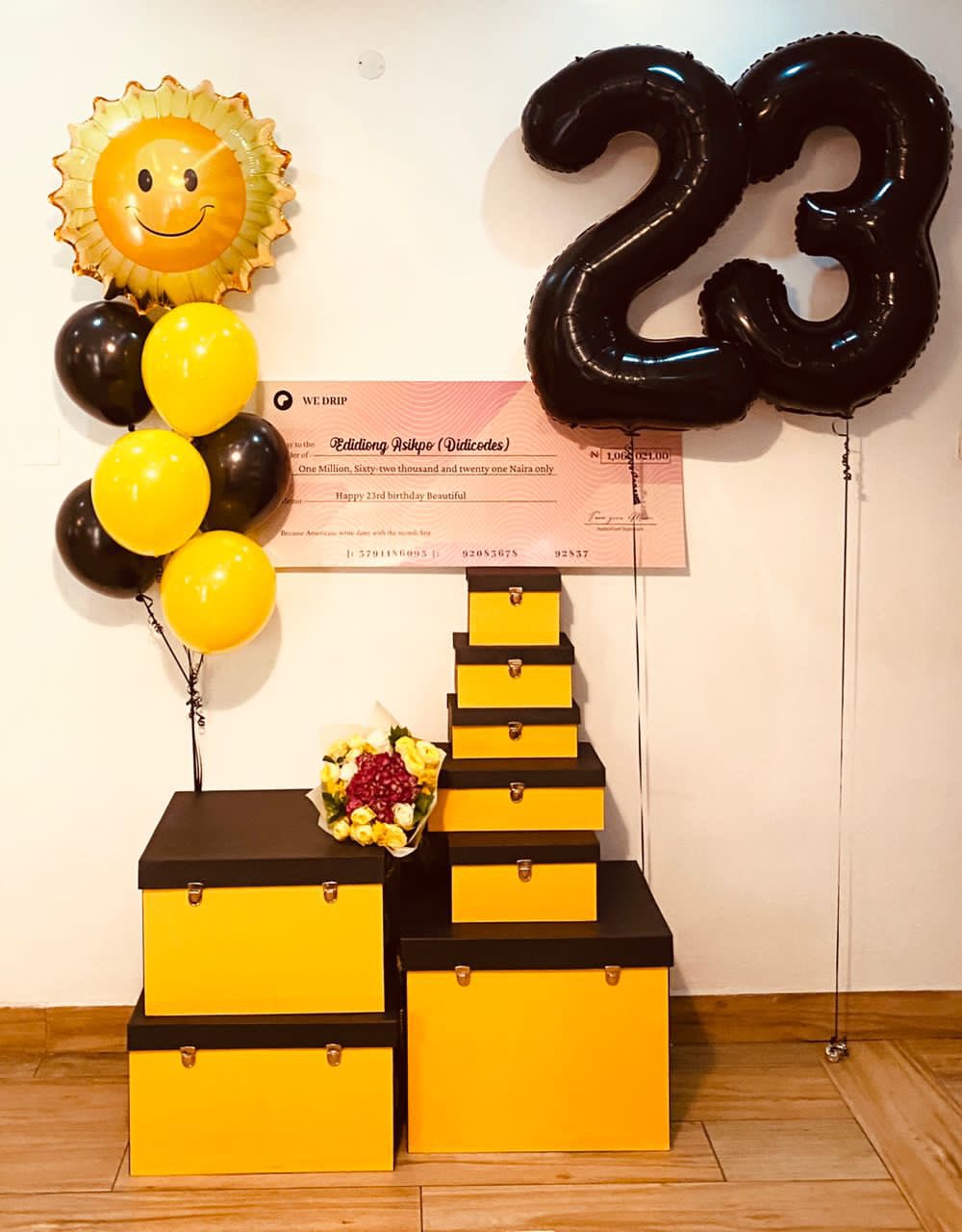 Check out the break-down of how her boyfriend spoiled her on her birthday:
"It is that time of the year again and this man understands the assignment every single time.
My man got me some really fantastic gifts for my birthday.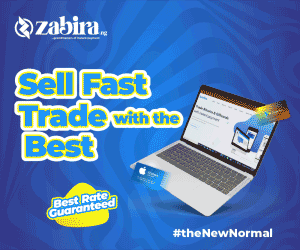 Here's a thread of the gifts
My birthday was on the 6th of October (6/10/21). The gifts followed the theme of 6 Countries/Experiences and 10 boxes with different gifts.
This man planned with my friends to set this up and I had no clue.
So the 6 experiences will be happening in 6 countries. OMG Exploding head
* Amsterdam, Netherlands
* Berlin, Germany
* Ibiza, Spain
* Milan & Venice in Italy
* Paris, France
* Santorini, Greece
I can't wait to see Messi (The GOAT) physically and also watch a Ballet show for the first time.
Santorini? Whatttttttt!
Box 1 (Romantic gifts)
* An "I love you bum" mug
* A necklace that shows he loves me in many languages
* A cute teddy bear
* A sunshine themed bouquet of flowers
Box 2 (Food & wine)
It's how he knows I love food for me.
* A birthday dinner
* Weekend at Lagos Continental with my friends
* Baileys (My favourite drink)
* Creamy chocolates including Ferrero rocher
* All variants of fox cookies (PS: I fucking love fox cookies)
* Harvey Nicholes cookies
* Wine by Lamborghini (OMG!)
Box 3 (Gifts for my body)
It's so intentional how he picks up the little details. I've always talked about how I wanted to lose weight on my arms and get back the flat tummy I once had.
* Waist trainer
* Arm treamer
* 6 months gym subscription
Fitfam here we go.
Box 4 (Clothes & wears)
* Dinner gowns
* Ashewo clothes, because I'm his personal ashewo
* Lounge clothes
* Night wears
… and a customized beach hat and bag (Can y'all see "The Drip" in there. #BestGiftEver)
I can't wait to wear these clothes!!!!!!
Box 5 (Accessories)
* Swarovski Necklace
* Gucci sunshades
* A yellow Fenella Smith Purse (because I'm obsessed with yellow).
Box 6 (Perfumes & personal grooming)
* Burberry Weekend perfume
* Carolina Herrera's VERY GOOD GIRL perfume
* Michael Kors sexy perfume
* L'OCCITANE hand creams (I sweat on my palm most times and my thumbprint takes forever to work. I really hope this works. )
Box 7 (Shoes, Bag & Wow!)
* Michael kors Lace-up boots (The cutest boots ever)
* A customized Michael Kors wristwatch (OMG!)
* A Picard backpack (I'm gonna use this today, lol)
Box 8 (Books for your mind)
It's the trust for me. >>>
I was supposed to get 23 dollars (because I turned 23) after reading each book. But for some reason, he added the money into each of the books.
I'm definitely using the money before I read the books lol.
Box 9 (An iPhone 13)
What???! This is so exciting. I wanted to get an iPhone 13 and I'm so glad I don't have to use my money for it lol
Y'all should get ready for the mad pictures I'm going to take.
Box 10 (1 million naira)
If you follow the Nigerian way of writing dates, it would be 6/10/21 but if you follow the American format, it would be (10/06/21).
And he sent me 1 million, 62 thousand and 21 naira. So, it could fit into American format (10/06/21) of my birthday."
See tweets below: